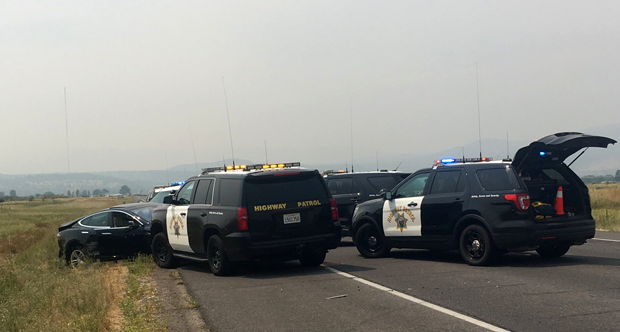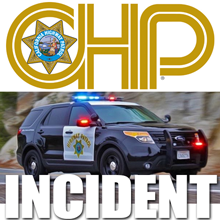 An odd series of events led to the arrest of a Reno man who, according to details released today by the California Highway Patrol, failed to stop his Tesla sports car in a road construction zone, nearly struck the CalTrans flaggers, then led CHP units on a high speed pursuit, while naked, with a black cat on the front seat of his car, before officers deployed their Tazers and took him into custody just outside of the Susanville city limits.
At around 2:00p.m., on July 30th, according to CHP Information Officer Kristin Wilburn, an officer assigned to assist with traffic control within the construction zone of US-395 north of Sears Road, observed a black Tesla sports car fail to stop for the CalTrans flagger and made a traffic stop within the construction zone.
"Upon contact, the CHP officer noticed the driver was naked," explained Wilburn. The driver was identified by his Nevada driver's license as 31-year old Reno resident Joseph Larcher Hoyt.
According to the CHP report Hoyt suddenly accelerated and began to travel northbound within the construction zone, nearly striking several workers.
The CHP officer immediately activated his lights and siren and advised Susanville CHP Communications Center he was in pursuit.
Hoyt continued north on US-395 for several miles. A spike strip was successfully deployed north of Diane Drive but Hoyt's Tesla continued, crossing the US-395/SR-36 intersection without stopping or yielding to other vehicles.
A second spike strip was deployed west of the intersection. The two spike strips caused damage to the tires, and Hoyt reduced his speed to approximately 30mph.
At this time, CHP performed a PIT maneuver, a pursuit immobilization technique, which caused the Tesla to spin 180 degrees. He accelerated eastbound on the highway striking a CHP unit.
Before he could do further damage the driver was pinned in and stopped by three CHP vehicles.
According to the CHP report Hoyt refused commands to show his hands or to exit the Tesla. He also made furtive type movements within the vehicle.
Both the driver and passenger side windows were broken by CHP and tazers were deployed, but were ineffective. Hoyt climbed into the backseat of the Tesla and appeared to be reaching in the trunk. At this time, several officers removed him from the backseat and placed him in handcuffs.
Hoyt was taken to Banner for medical clearance before being booked into Lassen County Jail.
During the investigation, a black cat was located on the right front floor board of the Tesla. With help from personnel of the Susan River Fire Department, the animal was safely removed from the vehicle.
CHP thanked the agencies who assisted during the incident: Lassen County Sheriff's Office, Susan River Fire Department, SEMSA and Susanville Fire Department.