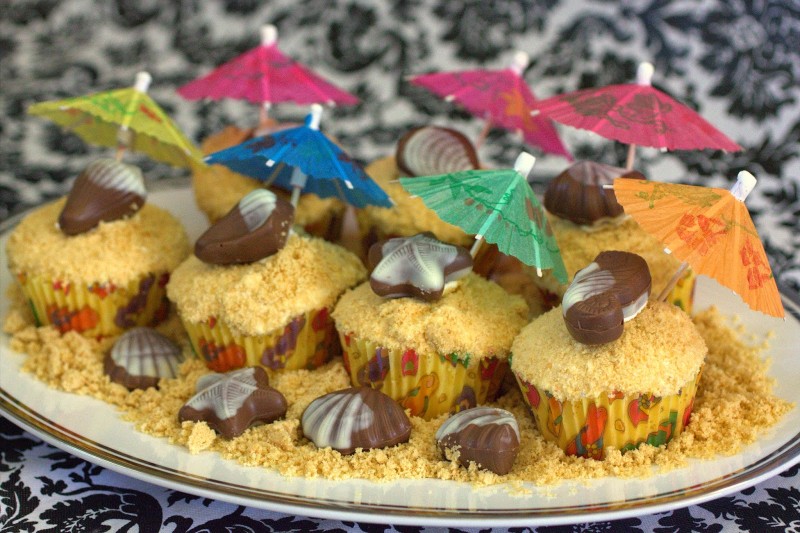 Nutella Truffle Beach Cupcakes
by Mindie May Hilton
SusanvilleStuff Food Blogger
Nutella hazelnut spread is certainly becoming a popular item to use in desserts. I have to stop my youngest from eating it by the spoonful.
Today I am sharing an easy recipe for Nutella Truffle Beach Cupcakes. These cupcakes come together quickly with a box of cake mix, and Seashell Treasures Hazelnut Truffles.
To go with our beach theme, I used flip flop baking cups, and accessorized our cupcakes with cocktail umbrellas. Call me a dork, but everything tastes better with a little umbrella.
Crumbled Golden Oreo cookies make for our tasty sand on top of the cupcake. Each cupcake has a small spoonful of Nutella baked into it. The perfect moist rich center to a fun Summer inspired dessert. Whose ready for a beach party? Schools out for Summer!  I can't think of a better way to spend some quality time with the kids, then baking up something sweet.
This recipe is kid friendly from start to finish. Get your children in the kitchen with you, and have them decorate the top of these easy cupcakes.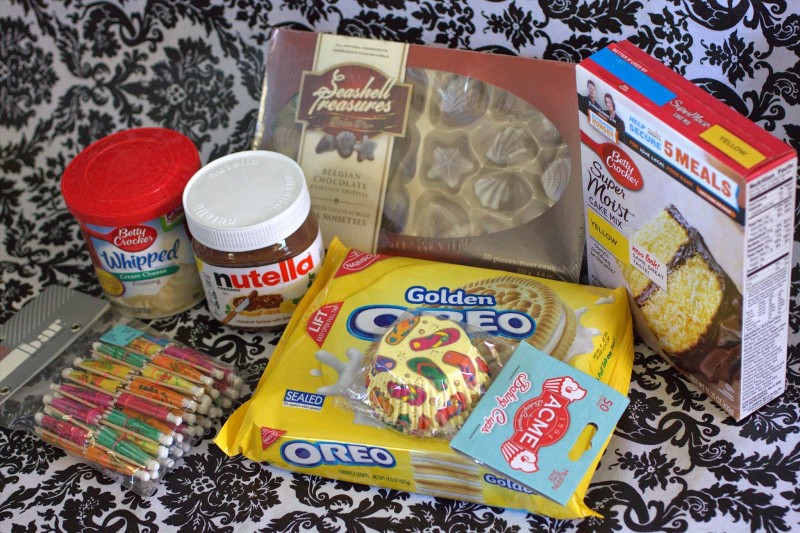 Nutella Truffle Beach Cupcakes:
Makes 20 cupcakes
Ingredients:
1 box of yellow cake mix (I used Betty Crocker Super Moist)
1 cup of water (per cake mix directions)
1/2 cup of vegetable or canola oil (per cake mix directions)
3 eggs or 3/4 cup cholesterol free egg product (per cake mix directions)
optional: 1/2 tsp hazelnut extract
Nutella
20 Count Golden Oreo Cookies
1 Container of Whipped Cream Cheese Frosting
1 box of Seashell Treasures Hazelnut Truffles
Directions:
Step 1. Preheat oven, and prepare cake batter according to package directions. Optional, stir in a 1/2 tsp of hazelnut extract into batter. Line your muffin pan with your paper baking cups. Spoon about 1 1/2 tablespoons of batter into each baking cup. Drop about 1 tsp of Nutella into each baking cup. Top baking cups evenly with remainder of batter, filling each one about 3/4 full. Bake for 15 to 17 minutes, or until a toothpick inserted in the center comes out clean.  Note, some Nutella might stick to the toothpick, that's expected.  Let cupcakes cool completely.
Step 2. Frost each cooled cupcake, reserving about 1/8 a cup of frosting. Place Oreo cookies in a food processor and crush. Pour Oreo crumbs into a bowl. Dip the frosted cupcake upside down into the cookie crumbs to coat top. Place a tiny bit of frosting on the back side of a seashell hazelnut truffle, and place on top of cupcake. Repeat until all 20 cupcakes are done.
Accessorize cupcakes with tiny umbrellas if desired. Optional, decorate your serving plate with any remaining cookie crumbs.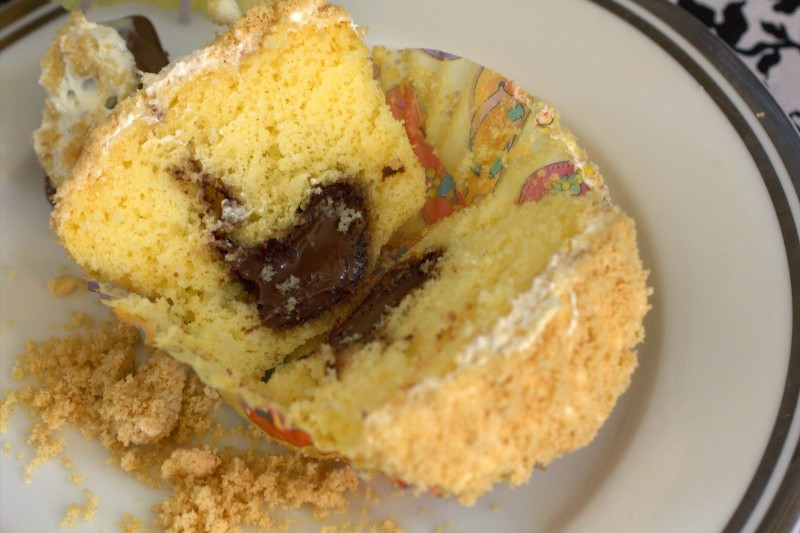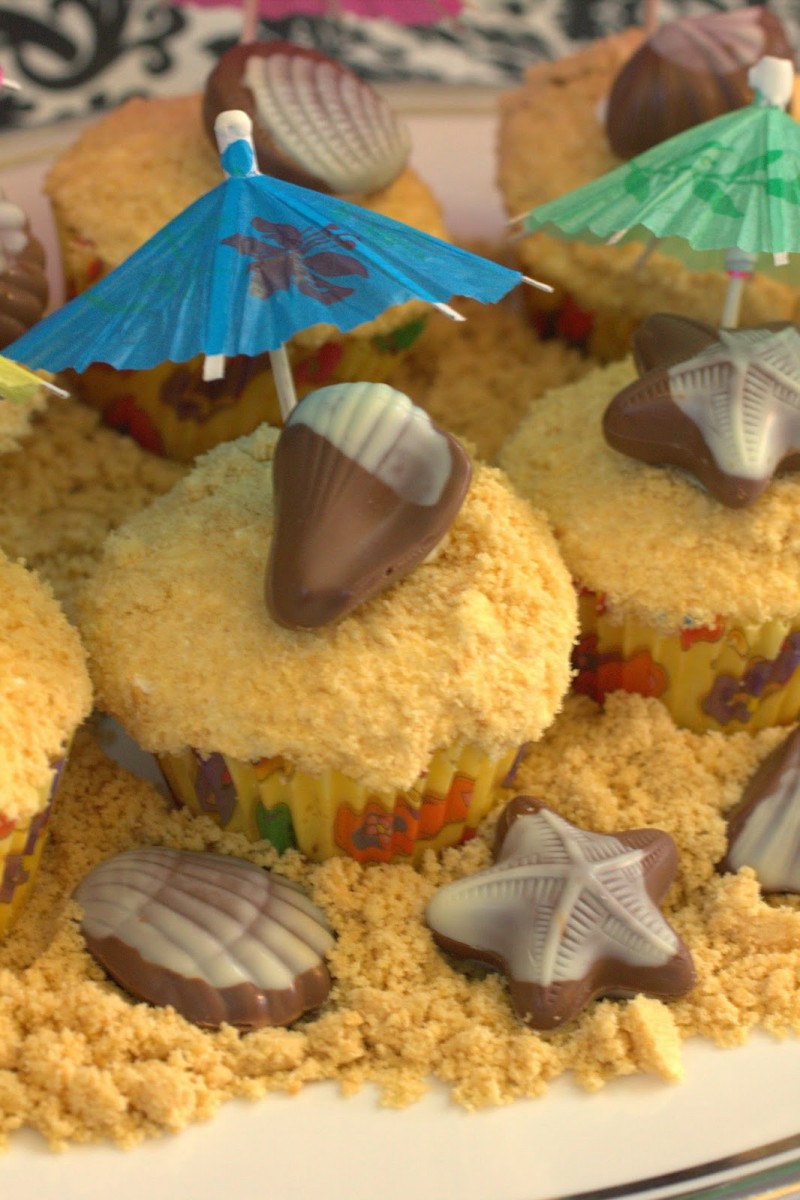 – Enjoy!
Visit Mindie May's yummy food blog Bacon Time With The Hungry Hypo.
When she is not cooking up new recipes, she is designing for her shop TLC Creations.