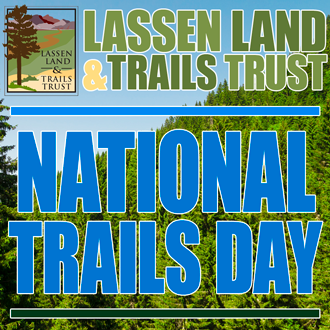 submitted by Lassen Land and Trails Trust
National Trails Day is celebrated on the first Saturday in June each year, falling on June 3rd in 2023. This annual event aims to bring together all trail enthusiasts, young and old, while honoring those who help maintain and preserve trails for everyone to enjoy.
The history of National Trails Day stretches back 55-years ago. Back then, there were no government-mandated trails for walking or other outdoor leisure activities.
This changed when Congress passed the National Trails System Act in 1968 to promote public access along a designated system of trails.
There are four types of national trails: national scenic trails like the Pacific Crest Trail in our region, national historic trails like the nearby Lassen and Nobles Emigrant Trails, national recreation trails like the beloved Bizz Johnson Trail, and connecting or side trails.
Today, the National Trails System consists of 11 national scenic trails, 21 national historic trails, over 1,300 national recreation trails, and seven connecting trails, as well as one national geologic trail totaling 91,000 miles.
In 1991, the American Hiking Society developed a program to highlight the value of trails and the importance of volunteers to sustain them. The Society dubbed it "National Trails Day." It has been celebrated ever since by thousands of trail organizations and volunteers all across the country.
Federal, state and local agencies, and organizations like the Lassen Land and Trails Trust, rely on volunteers each year to help maintain Lassen County's trails.
This June 3, the Mountains Meadows Conservancy is celebrating National Trails Day with a volunteer workday at Mountain Meadows Dam Day Use Area, south of Westwood off A-21 (Third Street) and Indian Ole Road.
The event begins at 9:00a.m. and ends at 1:00p.m., to honor the Conservancy's efforts to improve the site. More and more people enjoy this day use area for fishing, paddling, picnicking, wildlife watching, and hiking but, without basic visitor facilities, site conditions were deteriorating.
Now there is a restroom, expanded parking, and a 0.5-mile scenic trail along the shoreline. Additional improvements call for picnic tables, informational and interpretive signs, and more convenient boat launch facilities.
"We welcome all volunteers to help with our rehabilitation and cleanup" said Ron Lunder, President of the Mountain Meadows Conservancy. "Please join us and bring the family. We love to see kids helping because they are our future stewards."