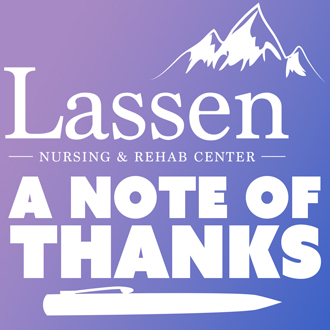 Lorrie Fitzgerald, Administrator in Training at Lassen Nursing and Rehab in Susanville, thanked the community for the contributions made to the Angel Tree program in a brief letter this week.
"I want to express my gratitude for each and every one of you who contributed to our Angel Trees for our residents at Lassen Nursing and Rehab Center. All of our residents were 'adopted' and received some extra holiday love because of your kindness and generosity.
"You all played a part in making their holiday season that much sweeter and I cannot thank you enough.
"I want to note that these gestures of kindness do not go unnoticed and I appreciate the dedication this community has for one another. We truly are a family here in Lassen County.
"I wish you all success and growth as we start this new year."