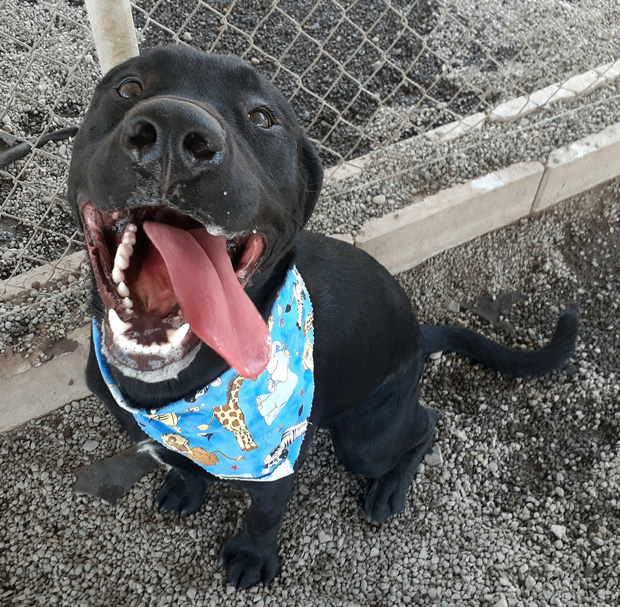 In typical lab fashion, Bob is an active guy! He's outgoing, friendly, and high spirited. There's always plenty of affection to go around when there's a lab in the house.
Bob came to the Lassen County Animal Shelter as a stray. From the start, it was clear this boy was a high energy type of dog.
He's an enthusiastic athlete looking for an equally active family that will keep him physically and mentally fit.
Bob needs exercise and mental stimulation on the regular. If you were to ask him what a perfect day would be for him, Bob might throw out the suggestion of a good morning swim session at the lake followed by a marathon game of fetch in the afternoon until the whole family is properly worn out and ready for dinner.
And then Bob would be ready to do it all over again the next day.
Bob will need to be tested with other dogs to see how he gets along with them, though he seems to want to play through the fencing. He's been recently neutered, vaccinated, and heartworm tested. If interested in meeting Bob, or other adoptable animals at the shelter, please call staff at (530) 257-9200.
Additional: If there are already dogs in a potential home, staff recommends a meet and greet with the shelter dog prior to adoption to ensure they get along.
---
Featured animals at the Lassen County Animal Shelter are available for adoption on a first-come-first-serve basis. According to California law, all adoptable dogs and cats must be spayed and neutered before leaving our facility. If interested in adopting an animal, please contact the shelter directly.
Current shelter hours during the COVID-19 pandemic are Monday through Friday, 9:00a.m. to 3:00p.m. Closed Saturday and Sunday. You can contact the shelter at 257-9200.