If You Do Business in Lassen County, You Need to Advertise on SusanvilleStuff!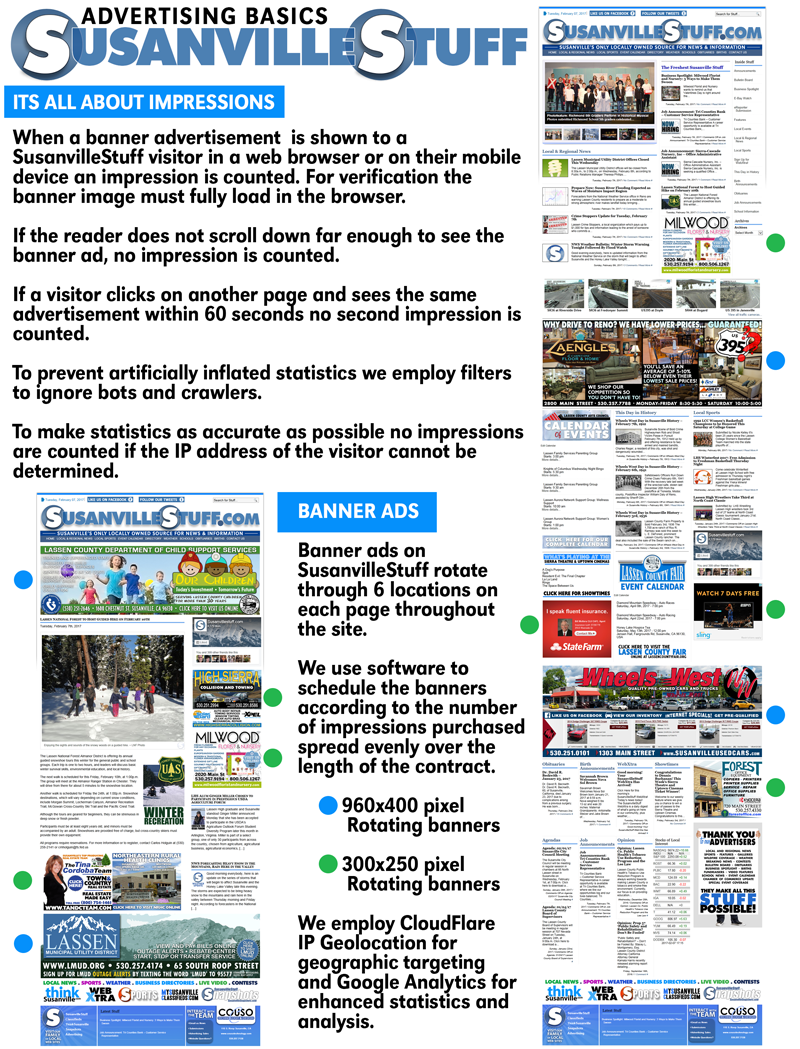 For more information about anything you see here email us at: advertising@susanvillestuff.com
90,000+ PAGE VIEWS EACH MONTH!

11,000+ LIKES ON OUR FACEBOOK PAGE  4,
500+ DAILY SUBSCRIBERS to WebXtra
ITS ALL ABOUT IMPRESSIONS
When a banner advertisement is shown to a SusanvilleStuff visitor in a web browser or on their mobile device an impression is counted. For verification, the banner image must fully load in the browser. If the reader does not scroll down far enough to see the banner ad, no impression is counted. If a visitor clicks on another page and sees the same advertisement within 60 seconds no second impression is counted. To prevent artificially inflated statistics we employ filters to ignore bots and crawlers. To make statistics as accurate as possible no impressions are counted if the IP address of the visitor cannot be determined.
BANNER ADS
Banner ads on SusanvilleStuff rotate through 6 locations on each page throughout the site. We use software to schedule the banners according to the number of impressions purchased spread evenly over the length of the contract. 960×400 Rotating banners 300×250 Rotating banners We employ CloudFlare IP Geolocation for geographic targeting and Google Analytics for
enhanced statistics and analysis.
SUSANVILLESTUFF.COM
Minimum 2,000 impressions per month.
10% bonus impressions for each thousand over 6,000.
300×250 pixel Square Banner = 10 cents per impression
960×400 pixel Long Banner = 15 cents per impression
FEATURE SPONSORSHIP
(weather, calendar of events, ag report)
Includes sponsor billboard and 1,000 monthly promos.
Weekly feature= $249.99 per month
Daily Feature= $499.99 per month
DAILY WEBXTRA
620×258 pixel or 300×250 pixel Banner ad
One week (5 issues) $50 per day = $250 per month
One month (20 issues) $30 per day = $600 per month
FRONT PAGE SPONSORSHIP
Static 960×400 banner near top of SusanvilleStuff's homepage. = $300 per week
THINKSUSANVILLE BUSINESS DIRECTORY
Listing= Free
Featured listing with 300×250 Banner = $50 per month
Category Sponsorship with 300×250 and Top of Page Banner = $225 per month
SPECIAL FEATURES
All banner ads can be linked to your website, Facebook page or a direct email link! In addition to static advertising banners we also offer several rich media alternatives including Flash and HTML5 animation. Using GEOlocation we have the ability to target specific geographic regions in our area. Static 960×400 banner near top of SusanvilleStuff's homepage. = $300 per week
You can create your own banner ad or we can design one for you! Banners should be submitted as .jpg or .png files saved to the correct dimensions.
All advertising requires the approval of SusanvilleStuff before being published and may be refused according to our website standards.
Are you ready to be a part of SusanvilleStuff? Do you have questions? Just email us at advertising@susanvillestuff.com!