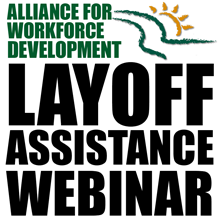 The Alliance for Workforce Development, along with other local partners, will be presenting a free virtual Layoff Assistance webinar this morning at 9:00a.m.
Presenters include representatives from the local Social Service Department, the EDD Workforce Services Department and staff from the local America's Job Center of California office.
The webinar will cover resources and assistance available in our community, through State and Federal programs, for those who have been laid off due to the COVID-19 pandemic.
The webinar begins at 9:00a.m. Click here to register. Register in advance to gain useful information about Unemployment Insurance, community resources and employment opportunities.