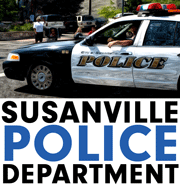 The Susanville Police Department reports that on September 7th, at approximately 11:30p.m., officers responded to the 1600 block of Main St. on a report of a prior robbery.
When officers arrived on scene they contacted a 19 year-old Lassen County resident who advised that he had been sitting in a parking lot using his laptop computer when he was approached by two males.
An altercation ensued and the victim dropped his laptop and left the scene, going to a local business to phone police. He stated that the two suspects had taken the laptop and other items of his personal property.
After searching the area and conducting further investigation, officers arrested two male juveniles, one 17 years-old and the other 15. They were transported to the Lassen County Juvenile Detention Facility where the 17 year-old was booked for robbery and being under the influence of a controlled substance. The 15 year-old was booked for robbery and public intoxication.
The case will be forwarded to the District Attorney Bob Burns the and Lassen County Probation Department for prosecution.