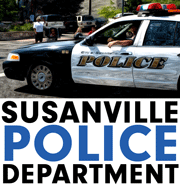 According to a release from the Susanville Police Department,on September 10th at around 3:30a.m., officers responded to the 200 block of N. Roop St. on a reported hit and run that had just occurred.
On arrival, officers contacted a resident who stated that he had heard a vehicle collision outside his residence and went outside to investigate. He found a heavily damaged truck stopped on his front yard and damage to a cinder block wall separating his property from the neighbor. The truck left the scene northbound on N. Roop St.
Officers located the suspect vehicle a short time later on the 300 block of Richmond Rd. Officers contacted the two occupants, later identified as Zachary Dotson, age 21 of Susanville and Cassandra Moline, age 21 also of Susanville. Officers began attempting to question them concerning the hit and run. During the investigation, Dotson rushed one of the officers and was taken into custody.
Dotson was arrested and transported to the Lassen County Jail where he was booked for Driving Under the Influence, Hit and Run, Battery on a Peace Officer and Resisting a Peace Officer. Moline was arrested and booked for Public Intoxication and Obstructing a Peace Officer. Two Susanville police officers were injured during the incident; one was treated and released at Banner Lassen Medical Center for a knee injury.
The case will be forwarded to the District Attorney for prosecution.