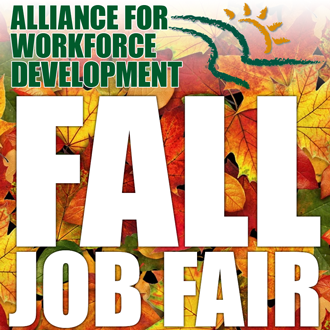 The Alliance for Workforce Development is inviting employers to take part in a November 16th, Fall Job Fair, giving them a chance to reach a wide-variety of job seekers who are expected to attend the event.
This is a terrific opportunity to fill positions from entry level to management while at the same time showcasing your company and sharing your culture.
AFWD Business Service Representatives and Career Center Advisors will be on hand to assist with your candidate search and each business will be provided with an 8-foot table and refreshments.
The cost to participate is $25 for Nonprofit/Government entities and $50 for private sector employers.
The event will be held between 2:00 and 6:00p.m., on November 16th, in Jensen Hall at the Lassen County Fairgrounds.
To register as an employer for the Job Fair click here and follow the directions for the registration process. Please contact Cheyenne Ratkey at 1 (530) 927-7404 or cratkey@ncen.org