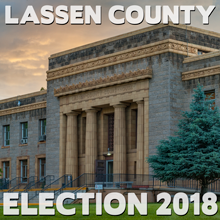 An error in voter instructions on the November 6th, ballot is forcing Lassen County Clerk-Recorder Julie Bustamante to re-conduct the race for Lassen Community College's Area 1 Governing Board Trustee.
"After consultations with the California Secretary of State's office, Lassen County Counsel and reviewing the California Elections Code, it is clear that continuing the election for this race would produce illegal results," explained Bustamante on Tuesday.
"Therefore, I must declare that due to the error this race must be re-conducted."
The ballot instructions for the race read, "Vote for no more than THREE" when they should have read, "Vote for no more than TWO".
Votes cast for this race in the November 6th, election will not be tallied, however, according to Bustamante the remainder of the ballot will be counted as normal.