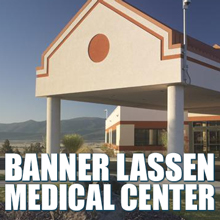 Anyone visiting a hospitalized individual at Banner Lassen Medical Center in Susanville now must provide proof of vaccination or proof of a negative COVID-19 test in the last 72 hours prior to entering the facility. This news follows the California Department of Public Health's announcement of requiring additional safety protocols aimed at rapidly reducing COVID-19 transmission in the state of California.
"Banner Health remains committed to keeping our team members safe and healthy so they can focus on providing the highest-quality care possible to our community," said Marjorie Bessel, MD, Banner Health's chief clinical officer. "This added safety measure is right in line with our mission as it serves as an additional layer of protection for our health care workers, patients and those visiting the hospital."
As required by law in the state of California, anyone who is visiting someone at the Lassen Medical Center must present their COVID-19 vaccination card, ensuring 2 weeks or more have passed since the last dose of an approved COVID-19 vaccine. If this is not available, visitors must provide proof of a negative COVID-19 test that has been conducted in the last 72 hours.
Just recently, the state announced new measures to encourage employees and health care workers to get vaccinated. This new measure, however, now includes hospital visitors, but not those seeking care at the Lassen Medical Center.
The following individuals are not required to meet COVID-19 vaccine verification or testing requirements:
Fire, police, ambulance, correctional officers, and other pre-hospital care workers if they are entering the facility while on duty for their job.
Parents and legal guardians of patients when their presence is legally necessary to make decisions about care and treatment for a minor child.
Support persons for a patient with physical, intellectual, developmental disability, or cognitive impairment when the facility has determined that allowing their presence is required as a reasonable accommodation to support the patient with a disability.
Visitors with power of attorney when the visit is to address legal matters that cannot be postponed or accomplished virtually, including but not limited to voting, estate planning, advance health care directives, power of attorney, and transfer of property title.
Individuals accompanying a person who is seeking urgent or emergent care.
Per California Department of Public Health:
Children ages 2-11, even though they are not eligible for vaccination (thus, they are subject to the testing requirements).
According to the recent release from the CDPH, these statewide facility-directed measures are "necessary to protect particularly vulnerable populations." The release notes that hospitals, skilled nursing facilities and intermediate care facilities "serve uniquely vulnerable populations where COVID-19 outbreaks can have severe consequences including hospitalization, severe illness and death."
Banner Lassen Medical Center administration said that they are hopeful this new enactment will reduce the risk for exposure even further than before.