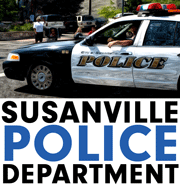 Captain Tom Downing, of the Susanville Police Department, reports that on September 6, 2011 a Lassen Superior Court Judge handed down a sentence of 24 years in state prison to Anthony Cleo Billings for a string of commercial burglaries in the Susanville area in 2010. Billings was found guilty in a jury trial on 28 counts of commercial burglary, 3 counts of vandalism and one count of receiving stolen property in May of 2011 in this case.
According to the department's press release Billings received credit for time served while in custody awaiting trial and sentencing. He remains in the custody of the Lassen County Sheriff until transferred to the California Department of Corrections and Rehabilitation to begin his prison sentence.
Captain Downing reiterated the Police Department's appreciation for the assistance and cooperation of several agencies including the Lassen County District Attorney's Office, the Lassen County Sheriff's Office, Lassen County Probation Department, CDCR Paroles, Federal Bureau of Investigation and the U.S. Postal Inspection Service. He said that the convictions and the sentence handed down was a result of the collaborative effort of all involved.