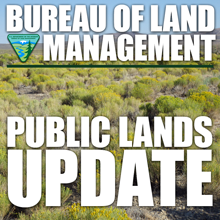 The Bureau of Land Management is asking the public to avoid driving on muddy roads. Recent winter storms have left a high potential for road damage and erosion on BLM-managed public lands in northeast California.
Winter weather and road conditions can change quickly, please gauge your winter safety awareness and recreate responsibly.
Staff in the Applegate Field Office have reported increasing damage to roads leading into firewood cutting areas. Road repairs will be costly and, in some cases, the damage is made worse by efforts to free vehicles mired in the mud.
"We are asking people to pay close attention to road conditions when venturing out into any public land areas during the winter and early spring months," said Applegate Field Manager Craig Drake.
"Wood cutters should remember that rutting roads violates the terms in their permits. It's best to plan activities for early morning while the ground is still frozen."
Drake advises visitors to carefully plan their visits, Know Before You Go and realize conditions can change quickly. Bringing the 10 Essentials, packing a winter car kit, and checking road and weather conditions can make your visit a success.
The BLM urges public land visitors to call the nearest BLM office to check on conditions before venturing into the back country.
In northeast California, information on road conditions is available from the Applegate Field Office in Alturas, 530-233-4666; and the Eagle Lake Field Office in Susanville, 530-257-0456.