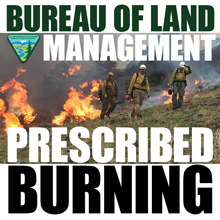 The Bureau of Land Management will be conducting pile burning projects today and continuing through this Friday, December 2nd, in Modoc and Lassen counties.
The piles of brush and small trees were created in projects to reduce hazardous fuels that could feed wildfires, and to improve rangeland health. There are 200 acres in the project areas. Crews expect to burn piles in areas covering 10 to 50 acres per day.
Projects are:
Dry Cow: Three miles east of Madeline, Lassen County
Ryegrass Swale: 10 miles south of Alturas, Modoc County
Callie Springs: 12 miles northeast of Alturas, Modoc County.
Smoke will be visible on ignition days in the burn areas. The BLM expects no smoke impacts to communities.
Burning will be conducted only when weather and fuel conditions allow for safe and successful burning, and in compliance with burn plans for each project. These burn plans specify allowable weather conditions and requirements for personnel and equipment.