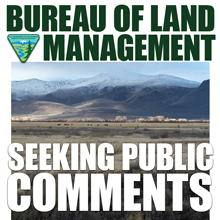 The Bureau of Land Management is seeking public comments on a proposed expansion of gold exploration at the site of the former Hog Ranch Mine, about sixty miles south of Cedarville along county road 34 in Washoe County, Nevada.
The project would cover approximately two hundred acres of BLM-managed public land. Most of the proposed drilling would take place on the former mine site.
Hog Ranch Minerals' proposed plan of operations includes constructing permanent and temporary access roads, improving existing roads, installing drill pads, drilling exploration holes, installing a water well and creating a staging area. The project would be implemented in phases over 10 years.
Public scoping is initiated as part of the National Environmental Policy Act to fully consider the environmental impacts that may result from implementing the proposed plan of operations.
Public comments should be submitted by February 23rd, 2023 to be the most helpful, and can be mailed to Bureau of Land Management, Applegate Field Office, 708 West 12th St., Alturas, CA, 96101, attention JoAnne Homuth; or sent by email to: jhomuth@blm.gov. Please add "Hog Ranch Exploration Project" in the email subject line.
The Hog Ranch Mine, an open pit, heap leach operation, operated from 1986 through 1995. The former mining company completed reclamation in 1999.
Maps and other information about the project are available on the BLM's ePlanning website or by calling the BLM Applegate Field Office, 530-233-4666.