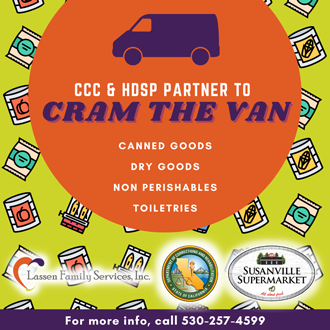 The nice folks at the California Correctional Center and High Desert State Prison are working together today to 'Cram the Van' full of food and necessities for Lassen Family Services.
The food drive will be going on in the parking lot of Susanville Supermarket IGA between 3:00 and 7:00p.m.
With these donations Lassen Family Services provides food boxes to survivors of domestic violence and sexual assault, as well as all community members that need food. No one should go hungry!
Food boxes are available for all members of the community. Lassen Family Services' food boxes are available by appointment. You can pick up a food box every two weeks directly from the clothing closet.
To make an appointment or for more information Please call 1.530.257.4599.