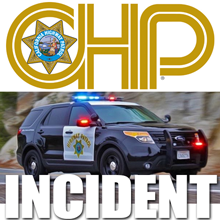 A Susanville man was arrested early Saturday after a high-speed pursuit that crisscrossed Susanville streets before finally ending with the suspect surrendering in a cul-de-sac in uptown.
According to details released by the Susanville Office of the California Highway Patrol, two CHP officers observed a motorcyclist traveling westbound on Main Street, near Fairfield Avenue, at a high rate of speed.
"The rider was traveling at a high rate of speed, approximately 40 to 45mph in a 30mph speed zone," explains CHP Public Information Officer Bruce Thuelchassaigne.
The CHP officers accelerated in an attempt to overtake the motorcycle as it turned north onto Ash Street.
The rider then turn west onto 1st Street, and failed to stop for the posted stop sign at the intersection with Park Street and turned north.
"The rider then turned west onto 4th Street when Officer Beem initiated a traffic enforcement stop by activating the patrol vehicle's overhead lights and siren."
The motorcyclist failed to yield, and instead accelerated in an attempt to flee.
"He proceeded to drive at a high rate of speed, run several stop signs and drive wrong way over double yellow lines in an attempt evade officers while he traversed several city streets in the city of Susanville."
The rider eventually turned down Dillon Court, which is a dead end road, from Willow Street and yielded to the officers. He was immediately taken into custody by Officer Beem and Officer McLain without incident. He was identified by the CHP as 39-year old Bryce James Cole.
"After the rider was placed under arrest, Officer Beem observed he displayed objective signs and symptoms of drug intoxication and subsequently located drug paraphernalia and drugs on the rider's person."
The rider of the motorcycle was also on Felony PRCS out of Shasta County, and had a Felony "No bail" warrant for his arrest out of Shasta County.