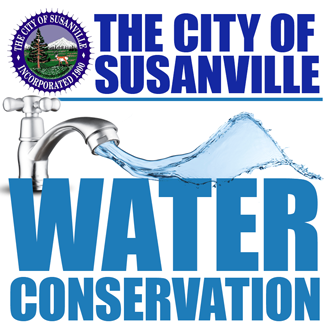 The Susanville Public Works Department is asking City water customers to reduce outdoor water use by 25%, by watering only three days per week, beginning today.
Also, as part of Susanville's Water Conservation Plan, effective today, July 1st, 2022 there will be a rate increase of $0.25 per 100 cubic feet of water used after the allotted Base Rate Usage.
According to a press release sent out by the Public Works Department Thursday, the California Water Resources Control Board has adopted an Emergency Water Regulation that requires the City of Susanville to conserve water to a level that is 15% less than 2021 levels.
The conservation of potable water will continue until the State lifts restrictions. The City of Susanville must comply with the regulation or face steep fines from the State.
"Although the City is not observing a measurable decrease in spring production or static water levels of wells, conservation is mandatory statewide and will improve water security if drought conditions continue," Public Works officials explained.
Mandatory Restrictions
Key Regulations of the State Water Resources Control Board
NOTE: All water provided by the City to your home or business is potable.
The following items will be actively enforced beginning June 10, 2022
Prohibited for everyone:
Using potable water to wash sidewalks & driveways
Runoff when irrigating with potable water
Using hoses with no shutoff nozzles to wash cars
Using potable water in decorative water features that do not recirculate the water
Using outdoor irrigation during and 48 hours following measurable precipitation
Required for Businesses
Hotels and Motels must provide guests with the option of not having towels and linens laundered daily
Restaurants and other food service establishments can only serve water to customers on request
Requirement of Urgency Ordinance
The following is required by the City of Susanville Urgency Ordinance Adopted May 27, 2015. Active enforcement will begin on July 1, 2022
All customers shall be allowed to water for only three (3) days per week. Customers with even numbered addresses may water on Monday, Thursday, and Saturday. Customers with odd numbered addresses may water on Tuesday, Friday, and Sunday.
Visit www.cityofsusanville.org for more information
Enforcement
The City is hopeful that education and public awareness campaigns will be enough to achieve the 15% conservation mandate. However, to ensure fair and consistent conservation among customers, the City will begin monitoring and enforcing the State Water Control Board Regulations and the requirements provided in the City's Urgency Ordinance on June 1st , 2015.
Customers will receive a door hanger warning notice when a violation is observed. Observation of a second violation may lead to a citation with a potential fine of up to $500.
The City of Susanville Public Works Department would like to help you conserve water by offering a free low-flow shower head to City of Susanville Water Customers (1 per household). Visit City Hall at 66 N. Lassen Street to claim your shower head.
For more information, call (530) 257-1041.