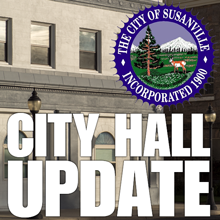 The City of Susanville has launched a new, free mobile app and web tool that the community can use to provide city staff with pictures, videos, specific descriptions and valuable information on non-emergency requests.
According to City Administrator Dan Newton, the Susanville Click & Fix platform provides city staff with a centralized issue management system to manage issues from creation to resolution, engaging the community throughout the process.
"The Susanville Click & Fix not only allows citizens to report concerns, but also to view, comment on, and vote to fix problems submitted by their neighbors," explains Newton.
The app is a community-driven communication tool and request management system that bridges the gap between constituents and city staff to increase citizen engagement and improve citizen services.
Citizens can create their own "watch areas" to receive notifications about all the issues reported in their community, enabling them to follow the progress of all service requests – not just the ones they report.
You can download the App from Google Play Store or the Apple App Store to stay connected by receiving information on city events, road closures, utility service disruptions, press releases and direct access from your mobile device to services such as online bill pay, city council agendas, job opportunities and much more.
You can also submit your requests and concerns by visiting the City of Susanville's website.