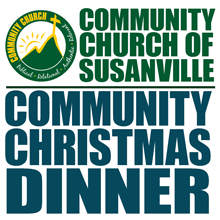 Come enjoy a hot meal and fellowship at Christmas dinner! Susanville's Community Church is inviting everyone to come take part in a fantastic dinner being served Christmas day between 3:00 and 5:00p.m. in Jensen Hall at the fairgrounds.
If you can't make it to the fairgrounds you can call the church office at 257-2924 or Pastor Rick Floyd at 251-3803 for meal delivery. Delivery of meals will begin around 1:00p.m.
Dinner will feature ham, sides and dessert.