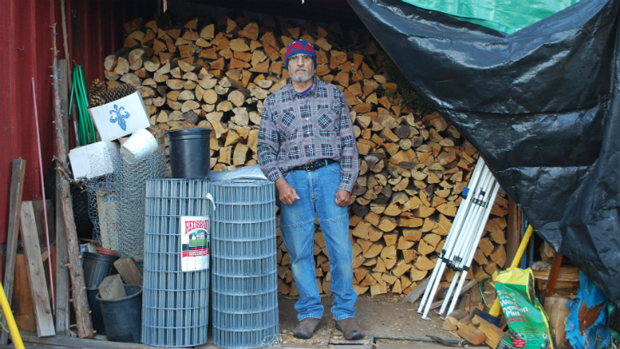 Cutting fuelwood is part of the local culture for communities around the Lassen National Forest, as many of the rural homes in the area rely on the forest to heat their homes in the colder months.
Last year, the forest issued permits amounting to the removal of 1,493,760 cubic feet of fuelwood for personal and commercial use in the communities. That wood heated homes in Susanville, Westwood, Chester, Mineral, Butte Meadows, Chico, Red Bluff, Burney, Fall River Mills, McArthur, Pittville, Old Station and Viola.
"More than one third of all homes in the communities served by Lassen National Forest are heated with fuelwood," said Ron Perry, a timber contract specialist for the forest.
Lodge pole pine, Douglas fir, and incense cedar are effective firewood commonly found in the Lassen. With thin bark and one of the higher BTU ratings of a soft wood, Lodge pole pine is the popular choice for many. And this popular wood will be even easier to claim this year thanks to the effect of high winds from a recent storm.
"This year we (the Lassen NF) had a large wind event and trees were scattered all over the landscape," said David Bricker, a resource information analyst for the Lassen. "If this was left on the landscape, the wildfire danger would be increased."
The downed and scattered trees will be easier for community members to collect, but more importantly, their collection reduces the amount of fuel available for wildfires. Firewood collection serves as a thinning operation, accomplishing needed fuel load reduction in the drought-weakened forest.
"While providing a resource to the public, (fuelwood collection) also accomplishes good work for the forest," said Perry.
The mutual benefit of fuelwood helps solidify the connection between the local communities and their national forest lands. The reciprocal relationship between man and forest fosters an appreciation of the federally protected landscape.
"It allows me time out in the woods to not only gather the fuelwood I need, but to enjoy the beauty and quietness of this lovely area," said David Escobar, a Lassen County resident.
Permits for fuelwood are available at LNF Ranger Stations at a cost of $10 per cord. A cord measures four feet high by four feet wide by eight feet long. Minimum purchase is two cords, with a maximum allowance of ten. Permits are valid for one calendar year. For more information, call David Bricker at 530-252-6683.