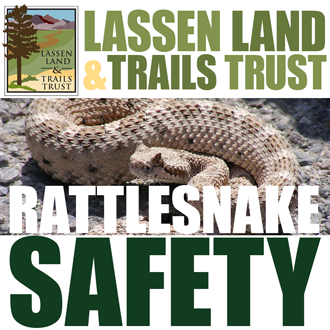 Keeping yourself, your kids, and your pets safe in rattlesnake country will be the topic of a Lassen Land and Trails Trust "Discover Lassen" presentation this evening, August 28th, at 7:00p.m., at the historic Susanville Railroad Depot, 601 Richmond Rd. in Susanville.
Speakers will include Dr. Paul Holmes, MD, who will discuss what people should do if they are bitten by a rattlesnake, and Dr. Wayne Cockrell, DVM, who will talk about what pet owners can do to keep their furry friends safe around snakes.
Discover Lassen is speaker series focusing on the lands, resources and recreation unique to Lassen County.
Admission to the talks is free; the organization accepts donations at the door.