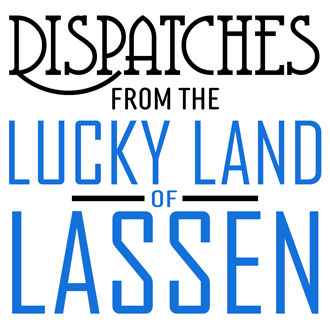 Happy Friday kids! It's time for an official, federally sanctioned, three-day weekend! Thank goodness!
The Paraskevidekatriaphobia support group will be meeting today at 1:00p.m.
It was a busy week in town and work took me to my first two events of the year, Lassen Family Services' Law Enforcement Appreciation Luncheon, and the County's Oath of Office Ceremony.
It was kind of nice to get back into the swing of things after the holidays, and it was great getting to see friends and have conversations after a couple of weeks spent in winter seclusion.
I really like going and covering the county's swearing-in because of the very real sense of continuity and history there. The same ceremony has been performed year after year, at the beginning of January, for at least a century and if you go back through old Susanville newspapers, the front-page picture in the first or second issue of each new year is usually the new county officials with their hands in the air, taking the oath.
I imagine the ceremony was roughly the same when my grandfather was sworn in as County Supervisor in 1960 and most likely for the one hundred years of Lassen County history preceding that. The atmosphere is very solemn, but abuzz with excitement, with friends and family showing up and packing the tiny board chambers on Nevada Street.
It was a good group of people getting sworn in, most of them seasoned veterans at their elected positions. I am not sure I have ever seen anyone who looked as excited or enthusiastic about being a new board member as third district Supervisor Tom Neely.
On the same day as the ceremony all-around good guy Gary Bridges was named as the Chairman of the Board of Supervisors. Congratulations Gary!
Outstanding in Her Field
One of my favorite people in the world, Lassen Probation Chief Jennifer Branning, is serving this year as President of the Chief Probation Officers of California. She is the first Lassen Chief to serve as the CPOC President, which is a really big deal. The organization has representatives from all fifty-eight counties in the state and under Branning's leadership will help guide statewide policy and practice.
The stated goal of CPOC is to prevent crime and delinquency, reduce recidivism, restore victims and promote healthy families and communities.
It's True I Tell You!
I mention this because when I brought it up at a meeting on Wednesday everybody was shocked, and I felt incredibly old. Do you remember when there was a long-distance charge to call out to Janesville or Standish from town?
Kids today will not believe me, with their fancy cell phones and such, but when I was in school it actually cost money to call a 253 or 254 number from town.
I don't remember when this changed. Sometime in the early 90's I think. Sometime around the great Shoe Tree tragedy. What? You haven't heard of the Shoe Tree massacre?
The Night They Cut the Shoe Tree Down
Catastrophe struck along Highway 395, south of Ravendale at around 3:20a.m., on May 15th, 1994, when someone took a chainsaw and cut down Lassen County's first true roadside tourist attraction – the Shoe Tree.
This tree had been around since the 1940's and had been filled with shoes, tossed into the tree by travelers on the highway over the decades. Pair after pair, hanging by their laces. Like a festive, footwear Christmas Tree. And suddenly one night it was gone.
Trust me, that was the talk of the town for a good two or three weeks in the spring of 94.
Another Shoe Tree, one that paled in comparison, sprung up afterwards north of Hallelujah Junction but it just wasn't the same. That tree, I believe, was eventually cut down by CalTrans as part of a project to widen the road.
And alas, our chance to market ourselves to the world as "Lassen County – Home of the Shoe Tree" slipped away.
Have a wonderful weekend everybody and watch out for all of that wet stuff falling from the sky!