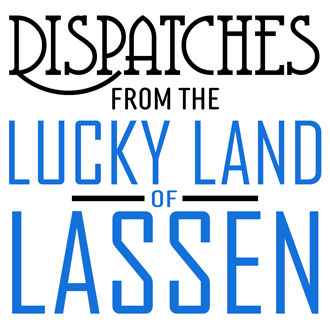 By Jeremy Couso
Publisher, SusanvilleStuff
Good morning, Kids! Welcome to Autumn, one of the prettiest seasons here on the western edge of the Great Basin. And yes, I know there are only four seasons, and I say every one of them is my favorite when they arrive, but truly Fall is pretty awesome around here.
Now that the heat has broken (was that only a week ago?) temperatures next week top out in the 80s each day, get darn near freezing each morning, and it looks like we might get showers later in the week. To me that is about the perfect, fall Honey Lake Valley weather.
Each morning gets a little colder and when you wake up you can smell wood smoke from fireplaces around the valley. Love this place.
The SusanvilleStuff Crash – or How We Spent Our Birthday Week
I started writing column number four on Sunday evening. It had been an event-filled weekend with fun stuff like Farmers Market, the car show and the Symphony performance and I was all ready to start out SusanvilleStuff's birthday week with lots of cool birthday related things.
That's right! As of September 21st our SusanvilleStuff website has been around for 19 years, and we have all sorts of neat stuff planned as we head into our twentieth year, but those plans would get delayed a little by technical difficulties.
Every morning at about 5:00, I habitually reach for my cell phone and check to see if SusanvilleStuff is online, WebXtra has launched and stories are beginning to post, then I go for my morning walk. So, at 5:00 on Monday I refreshed the site and got the dreaded white screen… SusanvilleStuff was unreachable. And thus, my week began.
Now in the world of Jeremy and Marshel the website is of paramount importance. It is, after all, what we do every single day of our lives, some days around the clock. When there is no website, it is like having the power go out. We are at a loss.
We try and use our SusanvilleStuff social media connectors like Facebook and Twitter as best we can to keep everybody informed but it isn't the same as the website, which reaches everybody at the same time.
We try to maintain consistency. And when we don't have that it feels very strange.
Because we have a big fancy Virtual Private Server for SusanvilleStuff we rely on techs at our hosting company to fix stuff when things go awry beyond my ability to repair them. The process is slow, requires a lot of phone conversations with support people and basically, I stay up till all hours working with people in other places around the world to fix the server.
On the first day of an outage Marshel and I pace around the house, sometimes working on the stuff we can do without a website. By day two we have done everything we can do without a website, so I pace around the office. On Tuesday I put 1.2 miles on my step counter during one extended tech support session, just pacing around the office while I was on the phone. lol
Poor Mrs. Couso.
Day three is chaos. I am done. I want to yell at tech support people, I don't leave the house, I just want my website back. I'm sure this is some stage of grief. This is also the point where I begin wondering if those three backups I have, but never have had to use, are thorough enough.
And then suddenly it all comes back. Magically! Some smart server tech, whose name I will never know, fixed it, the backups all worked, everything is in place, all is right with the world again. Thank goodness. I'm too old for technological stress.
Other things
Thank you to the Susanville Symphony for letting me be a part of a great show last Saturday. It is exceedingly kind of the Symphony performers who have played at the concert for decades to make room for the eclectic group of musicians brought into the mix for this show.
Bear warning! Fall means bears!
It's weird, I had lived here for 45 years before I ever saw a bear in town. Now we get them coming down out of the woods in the fall to forage in trash cans and wander around town.
Because, to a bear, an apartment complex dumpster is basically Golden Corral buffet.
Raccoons are the same way. I didn't even know racoons lived around here until I was in my 40s and one night, I saw eight of them at a storm drain. Now they seem common.
By the golf course and out on Gold Run Road, the zoological center of Lassen County, there are bears and mountain lions, all manner of scary beast. This is the time of year I avoid morning walks at the Bizz or Ranch Park because I just know there is a mountain lion watching me who thinks I look tasty and slow.
A Car Show in the Park
Ken Bailey stopped me, nay, accosted me, in the park and made me take this photo of his car. Which is a beautiful car.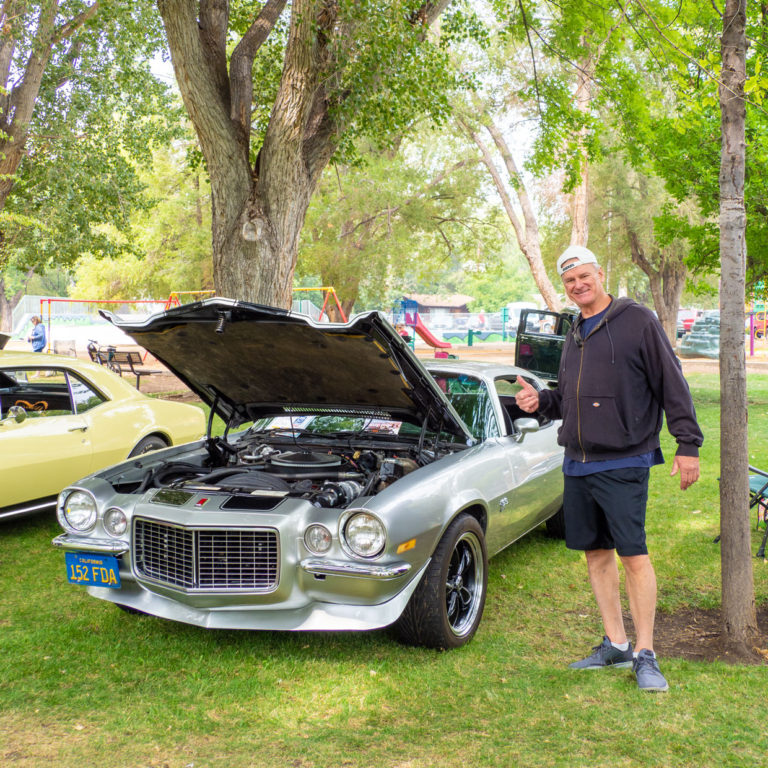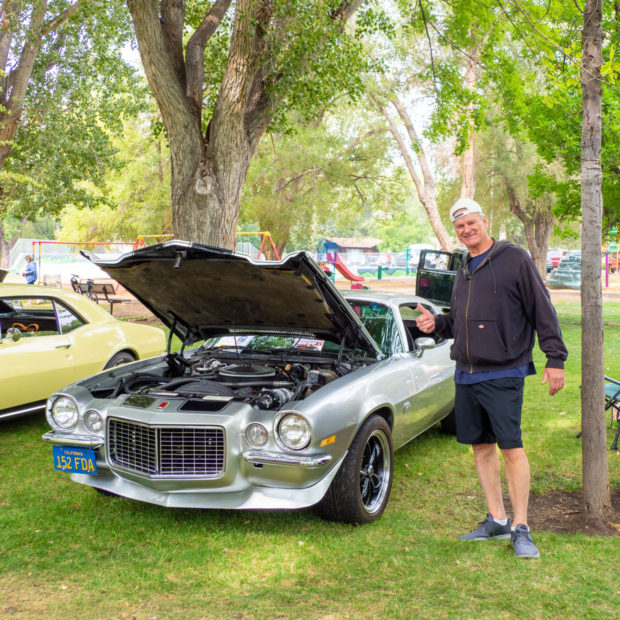 Have you guys been to this car show, the High Country Cruise? It is the biggest car show in town every year, with about three times the number of cars in the Main Cruise, but it kind of goes unnoticed locally, which is really a shame.
Every year it brings in a whole lot of out-of-the-area folks who cruise into town with their classic cars and hang out with all of our local car enthusiasts.
Normally held at the fairgrounds, this year it was held at Memorial Park, and we will have a photo gallery from the event here on SusanvilleStuff next week.
Staying Home for the Winter
I know several of the snowbirds, who normally head down to the warmer parts of the country for the winter, are staying here this year. Welcome back! Here's to a nice, mild winter with lots of snow up in the mountains.
New Mural
There is a new mural at the Susanville Grocery Outlet on Main Street. For you old-timers, that is where Safeway used to be. I don't know who the artist is but bravo to the store for brightening up the midtown area and promoting Susanville.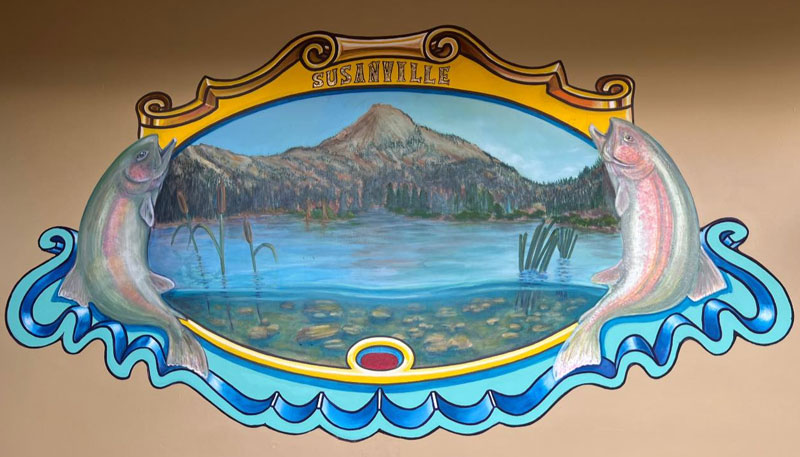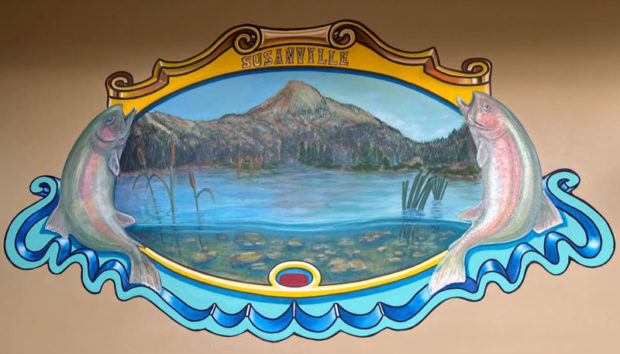 New Event Alert
Next weekend Mrs. Midgley is throwing a huge party at the fairgrounds. It will be a two-day Oktoberfest celebration and there is a whole schedule of fun activities for both adults and kids. There is live music on both days and Oktoberfest themed contests.
Sounds like a worthy addition to the Lassen County annual events calendar. The fair's website has more information.
Have a wonderful weekend everybody! See you next week!