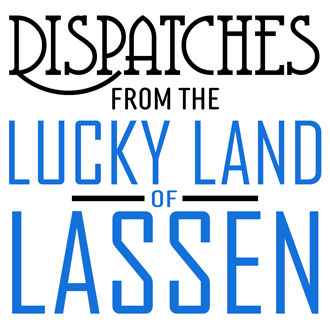 By Jeremy Couso
Publisher, SusanvilleStuff
Hey kids! Welcome to another Friday morning here in the best part of California!
October is on our doorstep, and it is a jam-packed, pumpkin-spice scented month here in Susanville with events like Dancing for a Brand-New Me, the Swing Symphony concerts, Oktoberfest at the Fairgrounds, the Rails to Trails Festival at the Depot, the Westwood Harvest Festival – right up until the big Halloween party in uptown, there is so much stuff going.
Then, suddenly, it will be time for all of us to hide for the winter! Only to re-emerge when event season begins in the Spring.
Wanna see something cool? This is the kind of historical Susanville picture that makes me smile. It shows a crowd of people outside watching a tightrope walker crossing high above, between the roofs of buildings on opposite sides of Main Street.
Although the photo is uncaptioned and undated, the Smith Hotel, the tall white building on the south side of Main Street in the background, burned in 1882, so this photo must necessarily predate that. But only by a few years I think.
The Pioneer Saloon was already here at the time, in the building with the little triangular feature on the roofline. That building still exists today two blocks down Main Street where it was moved in the 1920's
And check it out! Someone is hanging on for dear life on the back of the tightrope walker! Gadzooks! Was it a local kid who got to participate? Did the tightrope walker have an assistant? The details are lost to time, and all that remains is this kind of well-preserved image of the occasion.
I bet they talked about the tightrope walker for a long time around Susanville after this.
Return of the Railroad Velocipede
Speaking of neat events. Handcar races are returning to Lassen Land and Trails Trust's Rails to Trails Festival on October 8th! These popular races are unique because we have the only handcar race I know of (not that I am incredibly well versed on the topic) where there are two side-by-side tracks for racing.
Normally at railroad festival handcar races they only have one track and compete against the clock. But we have two, so it's more fun!
You need five people to make a handcar race team and the cost is $50 to register. You race between 11:00 and 3:00 next Saturday during the festival. Click here to download an entry form.
What's in a Name?
A few people have messaged me asking where the title of this column came from. "Lucky Land of Lassen" was the marketing slogan the Chamber of Commerce used for about fifty years, and it shows up in lots of vintage brochures and tourism publications. From time-to-time newspapers in Red Bluff, Redding and Sacramento would include Susanville news under the banner "Dispatches from the Lucky Land of Lassen." And now you know!
Thats a Lot of Flowers
Happy Anniversary to Milwood Florist and the Glass family who celebrated the business' 100th anniversary with a party Wednesday evening. It is truly a wonder to see a business survive, even flourish, over the course of a century and Breanna does a wonderful job carrying on that tradition for the family.
My Failings as a Ticket Seller Exposed
I am terrible at selling fundraiser raffle tickets, even though it is one of those 'necessary skills' to participate in the modern world. Oh, for just a tiny bit of Gary Felt's talent for selling tickets! But alas, I am really bad at it.
So, on that note, my Lassen Crime Stoppers board is holding a fundraising raffle, would you like to buy a ticket or five?  We use the money we raise from the raffle to pay the rewards for tips people give us that lead to an arrest or conviction. We have given out thousands of dollars in rewards over the last five years and have really made a difference here in town.
Tickets are five dollars each or you can get five tickets for $20, and you can win patio furniture, a cord of wood or a gen 3 Glock 19 9mm pistol. If you want to buy tickets just stop by Lassen Federal Credit Union on Riverside Drive and pick some up.
And tell them I sent you, so that I don't feel so bad when we go to the next meeting and I haven't sold any and everybody else has.
Have a great weekend everybody. We'll see you next week!