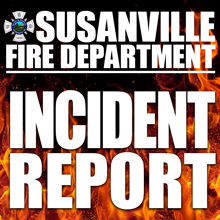 Smoke was showing from the building Saturday morning as firefighters from the Susanville City Fire Department arrived on-scene at Burger King, following reports of a fire in the restaurant's kitchen.
"It was reported to the engine crew that the fire was located in the kitchen and was thought to be an electrical fire, which prompted the engine crew to make access to the kitchen area and cut power to the building from the main electrical breaker," explains SFD Captain Leon Myers.
According to Myers, the fire was found in the kitchen, isolated to the bottom portion of the main fryer, where the electrical components were located.
"The engine crew utilized a commercial kitchen extinguisher to put out the main fire in order to gain access to the electrical compartments, where the seat of the fire was located."
Once the compartment doors were opened, the remaining fire was quickly extinguished.
"The fire crews worked to remove smoke from the building and once the scene was determined to be safe it was turned over the business management."
Captain Myers and the Susanville Fire Department thanked Cal-FIRE and the Susanville Public Works Department for their assistance with the incident.