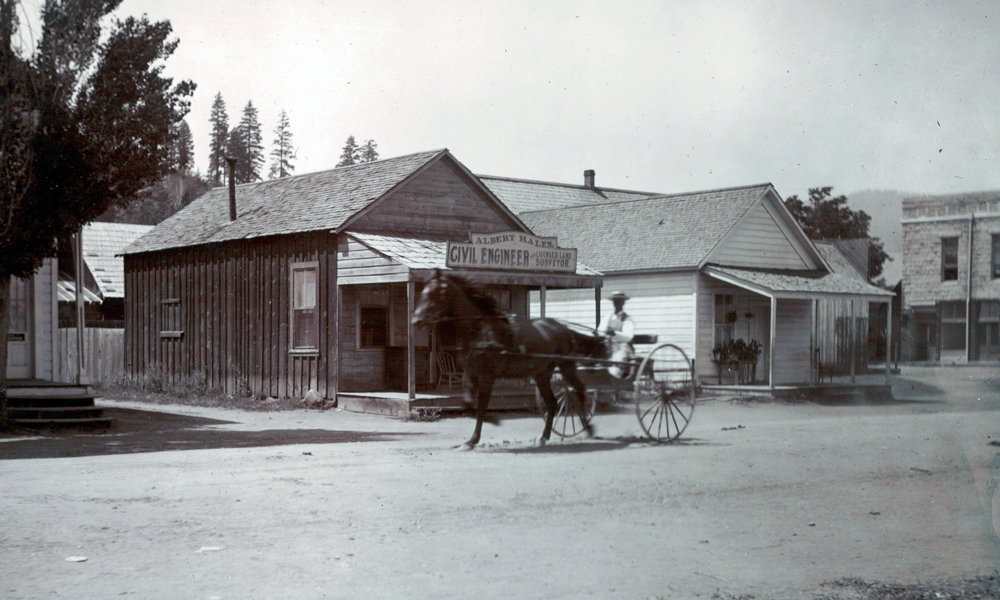 by Susan Couso
Sometimes people spend only a few years in Lassen County before moving on to somewhere with more hope, more promise or more interest. Albert Halen was one of these people.
Halen was born in Holland about 1852 and spent some time in the Navy there. But a fall from the ship's mast, and the serious injury which resulted from this fall, changed his course in history.
The injury caused him to be discharged from the Navy and plagued his physical wellness for the rest of his life.
The injury and loss of a Navy life also sent Albert on a new career path. He studied engineering in Holland, Germany and England, and after finishing school and graduating in England, he came to the United States to begin his new life.
Halen immigrated in 1876, and the young Dutchman became a Naturalized U. S. Citizen in 1881, in Sacramento.
He then found work as an engineer in San Jose, before traveling to Mexico for work. In Washington, he worked for the Northwestern Pacific Railroad before returning to California.
By the 1890's Albert Halen was lured to Lassen County to help design and lay out the town of Standish. Halen is credited with deciding just where the best site for the town was. Most importantly, he worked with fellow engineer William D. Minkler to provide a water system to supply the new community, and the Susan River Irrigation System was created.
On July 19th, 1893, a huge fire swept through Susanville, and Albert Halen's office, near the southwest corner of Main and Lassen Streets, was completely destroyed, along with numerous other businesses.
The Emerson Hotel, the finest hotel in the area, was later built on this corner, opening in 1901.
But Halen was gone. He finished his work in Lassen County and then moved on to Wyoming to begin again. In 1903 he moved to Utah's Unita Basin, finally settling in the town of Moffat. Moffat, Utah was later renamed 'Gusher'.
It was in Utah that Halen's career really took off. He became the United States Land Commissioner in Vernal, the Registrar, Land Receiver, County Surveyor, Justice of the Peace, and engineer.
On the first of January in 1926, Halen retired and planned to spend time at his home in Gusher, Utah. But that was not to be. He had been suffering with asthma and heart problems, and he had planned a trip back to California to regain his health. But Albert Halen was found dead in his room at the Commercial Hotel in Vernal, Utah on January 6th, 1926. He had prepared to leave that very day for California.
---
If you are a fan of our weekly history stories you should join the Lassen County Historical Society! It's a fun way to be a part of our county's rich history. When you sign up, you'll receive regular Historical Society newsletters with interesting stories and information. Membership is open to anyone with an interest in area history.
Through your membership you help preserve local history. You can download a membership application by clicking here.