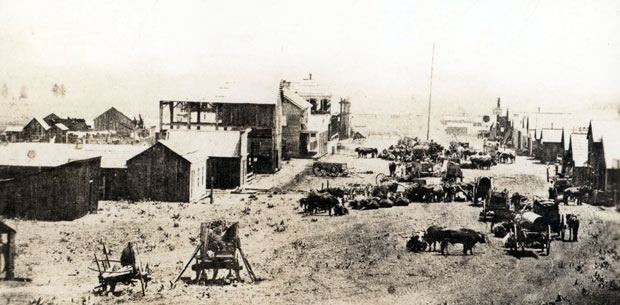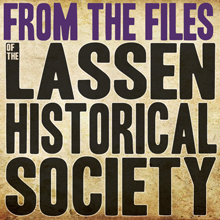 by Susan Couso
Since the 1860's lurid tales and mystery have surrounded early Plumas County pioneer Dr. Atlas Fredonyer, namesake of several area landmarks including Fredonyer Summit west of Susanville on Highway 36.
The truth of his actions will never be known, but there are many facts in evidence. He was born about 1832 in Switzerland and became a father while still a young teenager. He and Lucetta Abbott married in 1847, when they were both 15 years old. His marriage to Lucetta lasted a very short time, and Fredonyer landed on the west coast, living in the area around Sacramento and Stockton.
By 1851, his pass, Fredonyer Pass, was being described in newspapers as the safest and easiest way to cross the mountains from the east.
But Fredonyer, even though residing in Plumas County, was still visiting Sacramento, and had property there. In 1856 he was in court, in a nasty confrontation with a girlfriend who attacked him with a knife.
Fredonyer was apparently trying to break off a three-year affair with Eliza Field. Field had given him money to purchase the land on which his house was built. The judge, after hearing the messy case, took no action, reporting that Fredonyer was apparently able to protect himself.
In 1857, Fredonyer had possession of his daughter, nine-year-old Thalia Jane. His wife, who had married John Krider in 1850, came to Plumas County from Indiana, trying to get her daughter back.
According to Fredonyer, she "hung about American Valley, endeavoring to injure me all she could, by misrepresentation and otherwise." She then filed claim to little Jane in the courts. The case was presided over by Judge Ward, and according to Fredonyer's letter to his cousin, Rachel, he paid 'court fees' of $100 and won the case. Because of the bad feelings towards him in that area, he then brought his daughter to live in the Honey Lake Valley.
But in the Honey Lake Valley, Fredonyer was a fairly popular man. It was never discovered just what he was a 'doctor' of, but he kept that title until the end of his life. In 1856, as the Nataqua Territory was being formed, 'Fredonyer City' was chosen as the official name of what is now Susanville.
On April 11th, 1857, Fredonyer claimed land along the Susan River which included the water rights to the river, but he never enforced his claim. By 1860, he had claimed the land that is now Mountain Meadows, near Westwood, and spent the winter there in a tent trading post. He also had a saloon on Susanville's Main Street, and in March of 1865, it burned in a massive fire that destroyed many other establishments.
In 1862, things had begun to go all wrong for Fredonyer. On May 7th, 1862, he was indicted in Quincy, Plumas County for "incestuous and criminal assault." On May 12th, the trial began with Judge E. T. Hogan presiding.
District Attorney Patrick Hundley prosecuted the case and Fredonyer decided to defend himself. Hundley made a strong case against Fredonyer. The evidence was damning, and there was little doubt as to the defendant's guilt. Then Fredonyer began a lengthy discourse which lasted for four days.
Fredonyer had been confined with John Ketchersythe, a 25-year-old blacksmith from the Honey Lake Valley who was accused of horse stealing, and while Fredonyer prattled on in the courtroom, Ketchersythe was busily at work in the cell, digging a tunnel. When other inmates smelled the scent of fresh earth and alerted the guards, the 'jig was up'.
As news of the attempted escape reached the courtroom, Fredonyer gave up his prolonged dissertation. At the conclusion of the trial, there was no question of Fredonyer's guilt, and Judge Hogan sentenced him to six years in San Quentin. Fredonyer and Ketchersythe were transported there together at the end of May.
At his reception at San Quentin Prison, Fredonyer was noted as being of florid complexion with full features and having two bullet-wound scars. He was a heavy man, 5′ 10 1/4″ tall, with blue eyes and light brown hair, and his occupation was listed as 'physician'.
But that was not the end of the story. James Duesler started a petition, which was supported by many of Fredonyer's acquaintances, to have Fredonyer pardoned. Fredonyer had been well-known in the area, had written for the local Republican newspaper, and was even elected Justice of the Peace for the Honey Lake Valley.
Fredonyer aided the campaign by writing letters to the governor himself. He called his treatment unfair and insisted that his daughter was retaliating because of his stern treatment of her. He claimed that he had, on more than one occasion, retrieved her from a house of prostitution, where she had worked, and was simply being a strong, caring father.
Fredonyer was pardoned on November 26, 1863, by Governor Leland Stanford.
After his release, Fredonyer settled in San Francisco and worked as a sign painter, doing lettering and ornamental painting. His life was changed forever, and he no longer was a prominent citizen.
In 1880, Atlas Fredonyer became ill with intestinal problems. In an effort to alleviate his distress, he inserted a 16-ounce bottle of citrate of magnesia into his colon. Unfortunately, the top of the bottle broke, and the jagged edge punctured his intestines, and the bottle could not be dislodged. Fredonyer suffered until gangrene set in and he was deathly ill. Doctors at San Francisco's St. Mary's Hospital then performed surgery to remove the offending object. Fredonyer seemed to rally, but suddenly died on August 13th, 1880.
As for Thalia Jane Fredonyer, she returned to Indiana with her mother. In 1865, she married her first cousin, Lewis C. Abbott. She was 17 years old, and that marriage did not last.
A life of twists and turns and violence and lies was over, and as Farriss & Smith say in History of Plumas, Lassen and Sierra Counties, "Atlas Fredonyer turned out bad."
---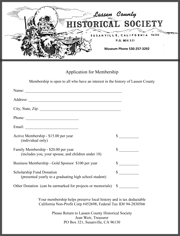 If you are a fan of our weekly history stories you should join the Lassen County Historical Society! It's a fun way to be a part of our county's rich history. When you sign up, you'll receive regular Historical Society newsletters with interesting stories and information. Membership is open to anyone with an interest in area history.
Through your membership you help preserve local history. You can download a membership application by clicking here.