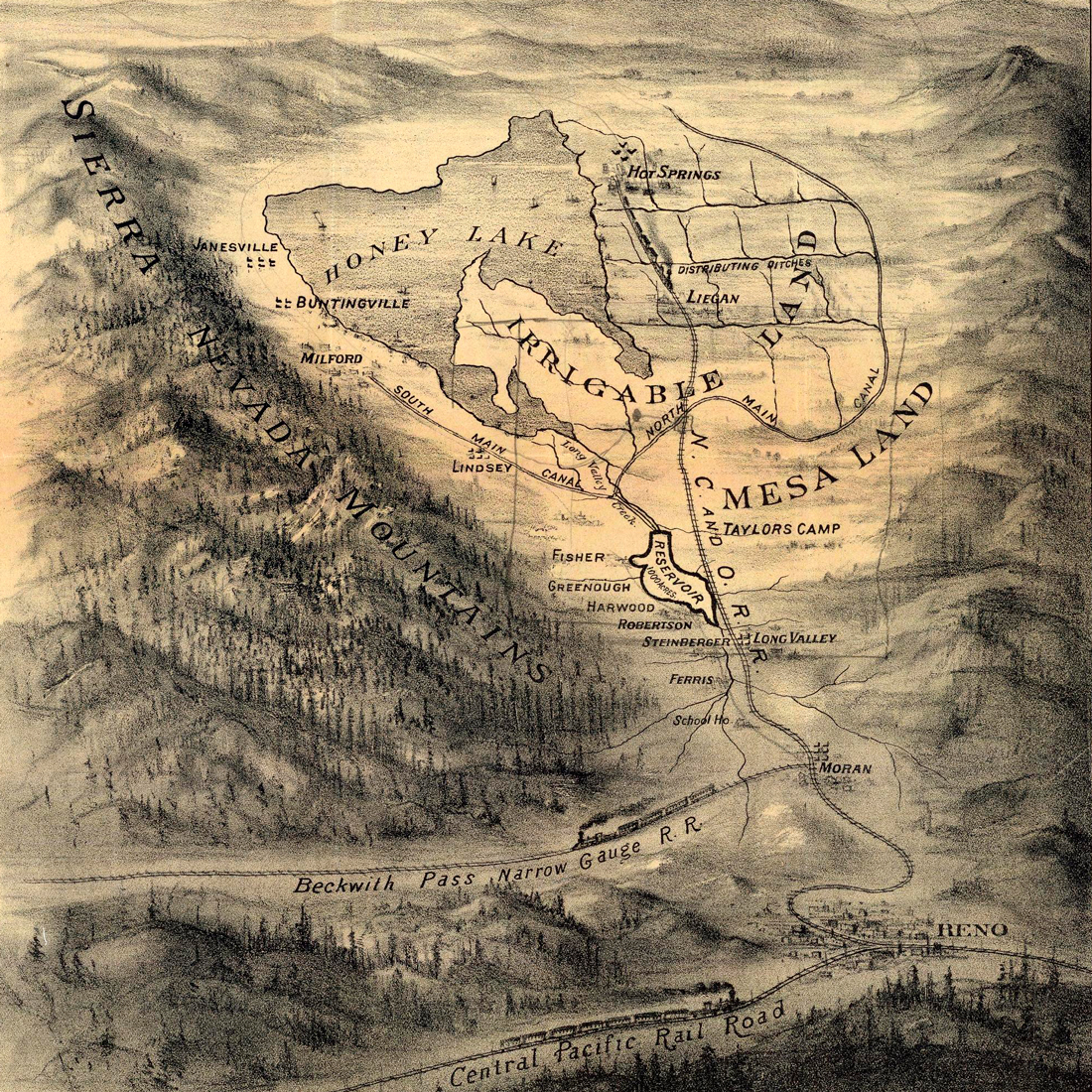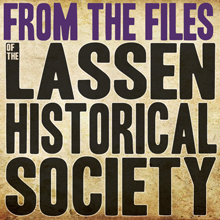 by Susan Couso
Lassen County has some interesting place names, and there are also many misconceptions as to where these names came from.
Since we are in Lassen County we should probably begin with the name 'Lassen.' Most people around here have heard of Peter Lassen, the 5' 2" tall Danish-Mexican who came to this region and made a big name for himself.
But, he actually didn't become a really big name until he died a mysterious death by murderers unknown.
Lassen settled in Honey Lake Valley in 1855 and died in 1859, a total of four years. He never became wealthy, but he must have been a 'heck of a guy' as everyone seemed to have liked him.
He probably has more namesakes than anyone else around northern California. Lassen never married or had children, so his name is only carried on through place names and history books.
Susanville was named after Susan Roop, who came here in 1863 and died here in 1921, so why does she not have more places named after her? She was Isaac Roop's only daughter, and he founded the town of Susanville. She has her namesake town, but she does not have the honor of having the river named for her.
Susan, who was very dedicated to her family, very community minded, worked to get the Methodist Church established, who bore eight children and who has descendants in the area to this day, got very little recognition. This should be remedied. Of course, I may be a bit prejudiced in the matter.
The town of Susanville was first dubbed 'Rooptown' or 'Roop's Rancho', so it makes sense that if the river had not already carried the name 'Susan', it would probably have been named, Roop River. Sometime around 1858, the name 'Susanville' was first used, and I have no idea why the new name came into use.
When Isaac Roop arrived in Honey Lake Valley, the Susan River had already been named by William Nobles. Nobles, 'discoverer' of the Nobles Trail which led thousands of dusty, tired, and hopeful emigrants through this valley to California, named the pretty little river after his wife, Susan. Susan Nobles never saw the river herself, as she stayed behind in Minnesota while her husband came west. He then returned home to her and never visited the river again.
Janesville was named to honor Jane Brown Bankhead or her granddaughter, Jane Agnes Hill.
Jane and Malcolm Bankhead were early Honey Lake Valley settlers from Scotland. They established their home where Janesville is today, and the little burg was simply called 'Bankhead's' for several years.
Malcolm Bankhead was the first postmaster when the post office was established in 1864, and he chose the name 'Janesville'. One story says that Malcom Bankhead named the budding town 'Janesville' in honor of his wife.
The other story says that the town was actually named for the Bankhead's granddaughter, Jane Agnes Hill, daughter of Susan Bankhead and Smith J. Hill. So whichever story is correct, the Bankhead's 'had a hand' in the matter.
Robert and David Johnston emigrated to Honey Lake Valley from England, and Johnstonville, formerly 'Toadtown', was named to honor them. But nearby Standish was named to honor Myles Standish, the pilgrim who arrived on the Mayflower and lived the rest of his life in Massachusetts. As for why our little village was named after a Pilgrim… well that's another story.
Litchfield got its name from German emigrant Andrew Litch who claimed land in the area, made a name for himself, and then moved on to Reno in 1882.
There are many other self-explanatory place names in our county. It doesn't take a lot of imagination to figure out where such names as Mosquito Creek, Ram Horn Springs, Mud Flat, and Red Rock come from. One of my favorites is Ant Spring. That must have been annoying.
Other colorful place names like Crazy Harry Gulch take a little more research. It seems that Crazy Harry was actually named Harry Miles. He was a miner from Scotland, and he really loved fermented beverages, which seemed to help him 'unwind'. Harry was found dead in his cabin in the gulch in 1882 and buried nearby.
James Byers was the Plumas County deputy who instigated the great one-and-a-half-day-long Sagebrush War by attempting to arrest a Honey Lake Valley judge. Oddly enough, when Lassen County was created, Byers became our first sheriff. Byers Pass is named for this very well-liked and well-respected rancher.
Constantia, south of Doyle, was named by Harry Butters for a beautiful wine growing region of South Africa. He built his home at the south end of Long Valley and hoped to try to recreate the lifestyle of the original Constantia.
Nearby Doyle is named for John W. Doyle and his family, who have ranched in the region for many years. The town grew in importance as the Western Pacific Railroad came through the valley and established a depot there.
The town of Herlong was originally named Hackstaff to show homage to the mother-in-law of the Nevada California and Oregon (N. C. O.) Railway president. Her name was Clara Hackstaff Adams. As the new army base was built in the very early 1940's, the name was changed to honor one of the first Army Ordnance Officers killed in WWII, Captain Henry Walter Herlong.
Likely, California has one of my favorite stories. It was originally called 'South Fork', but when a post office was needed, the government wanted only short names. The town folk got together to vote on a name, but there was no consensus. Someone said that they would most likely never agree on a name, and so they named it 'Likely'.
Roop Mountain, just north of Susanville, was originally called 'Worley Mountain', but Asa Fairfield, Lassen County's greatest historian, and a big fan of Isaac Roop, had other ideas. He had it legally changed to honor Roop.
The small town of Adin, which sets 'smack dab' on the Lassen-Modoc county line was named after Adin McDowell in 1870. Adin was actually created as a stop for teamsters on their way to the booming Hayden hill mines.
The place names of Lassen County follow the norm by being created to honor a person, event, or natural feature. Some names remain a mystery, and places like Caribou Lake which has no caribou, and Ravendale which does not have an abundance of ravens, are a puzzle.
It's always fun to wonder and to investigate and find out things, and Lassen County offers a lot of opportunities to not only research the names but also to visit the places which inspired these monikers. So, take a trip to Ant Springs and see if the little pests are still there.
---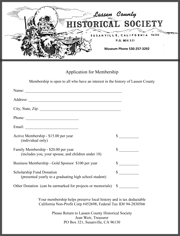 If you are a fan of our weekly history stories you should join the Lassen County Historical Society! It's a fun way to be a part of our county's rich history. When you sign up, you'll receive regular Historical Society newsletters with interesting stories and information. Membership is open to anyone with an interest in area history.
Through your membership you help preserve local history. You can download a membership application by clicking here.