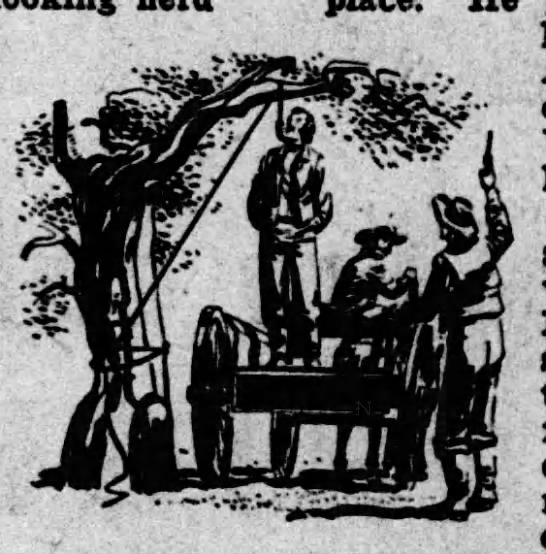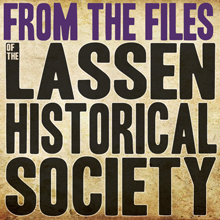 By Susan Couso
Click here to read Part One of our story…
Click here to read Part Two of our story…
On Tuesday, June 15th, 1858, the trial began. Everything was done in accordance with the law and testimony was given, and those in charge apparently attempted to act in a proper manner.
John Cary of Placerville was the judge and John Neale of Honey Lake and Dr. Benjamin L. King of Eagle Valley were associate judges. The jury was impaneled, everyone was sworn in and "The judges, jurors, and spectators sat in the court-room, armed with guns and revolvers."
The trial began with those men associated with Lucky Bill's gang. All were dealt with. One man named Candy was let go, but all of the others were fined various amounts and banished from the area under penalty of being shot.
Then, on Thursday, Lucky Bill's portion of the trial began. Six Honey Lakers joined twelve other men from around the region to form the jury. Thorrington was defended by Major Reese. Elliott and Edwards were the two main witnesses, and Edwards testified that Lucky Bill did not know anything about Gordier's murder when he asked him for refuge.
Rough Elliott testified to the intelligence that he had obtained while 'undercover' in Lucky Bill's gang and read from his notes. The testimony was written down and not one bit of evidence implicated Lucky Bill in anything except providing shelter for Edwards.
But the jury, on Saturday morning about 9 o'clock, determined that Willliam B. Thorrington, alias Lucky Bill, was guilty, and he was sentenced to hang. It was June 19th, and Lucky Bill was to have his sentence carried out that afternoon.
Edwards was sentenced to be taken back to Honey Lake and hanged.
Lucky Bill's wife, Maria, and his mistress, Martha Lamb, were both brought to say good-by to the condemned man. Martha was in tears. Her son, William Rodney Thorrington, was merely two weeks old. Lucky Bill talked to his son, Jerome, and cautioned him, saying, "let whiskey and gambling alone, that is what has brought me to this."
Thorrington was taken to hastily constructed gallows, about a mile away near the Averill Ranch. Hundreds of people watched as a wagon was driven between the poles and Lucky Bill stood on the rear of the wagon. He was serene and placed the noose himself, but he said that he didn't want to break his neck, so he stepped off the wagon before it was driven away.
It was 3 o'clock in the afternoon, and his body was taken by wagon to the top of the hill by the Averill Ranch and buried. The gallows was left standing to deter Lucky Bill's sort from thinking that they could operate as he had done.
Edwards was taken by the Honey Lakers back to Honey Lake Valley riding his horse, Bald Hornet. When they reached the Breed Ranch, about four miles from Janesville, they stopped. There was a butcher's gallows near the cabin, and Edwards met his fate there on June 23, 1858. He made a small speech and said that Asa Snow was innocent.
He said that they had never trusted him with any information. Edwards wished to be buried in the upper part of the valley. Orlando Streshly agreed to honor his request. Edwards was buried about three-quarters of a mile south of the old Richmond School.
John Mullen, the third murderer, was never seen again, and the conditions surrounding the ownership of his Bald Hornet being transferred to Edwards were never explained.
Through eye-witness accounts, testimony and investigation, the circumstances of the death of Henry Gordier have been determined. Around the middle of March, the two men, John Mullen and William Edwards, went to Gordier's cabin and informed him that one of his cows was sick. They offered to take him there. The three men left on horseback to the site of the 'supposed' ill animal, near where Willow Creek empties into the Susan River. As they neared the site, Mullen dropped back a bit and shot Gordier in the back of the head.
They removed his clothes and put them into an abandoned Native 'campoodie' which was close by, then set it all on fire. They put a large boulder on his body and tied it with a rope, and then lowered the body into a deep hole in the river. The two murderers then moved into Gordier's cabin and took control of all of his property.
After Edwards' hanging and burial, and the affair was ended, the Honey Lakers agreed that William 'Rough' Elliott should have Bald Hornet and the money that Edwards had in his possession when he died.
In Carson Valley things eventually settled down a bit. Jerome Thorrington tried ranching but turned to gambling to secure a living. Jerome married Melissa True in 1866 and died on June 16,1878 in San Francisco.
Lucky Bill's wife, Maria, lived with her son, Jerome, until returning to New York to live with her parents. Much has been written about her mental state and some reports say she died in an insane asylum, but there are no records of this. She lived with her son in Carson Valley in 1860, and then moved back east and lived with her parents, at least until 1870.
Martha Lamb married David Olds, whose brother, Luther, was one of Lucky Bill's gang, in 1861. She had three more children before dying in 1914 in Inyo, County, California. Martha and Lucky Bill's son William Rodney died in 1913. He had married Etta Horton in 1897.
Rough Elliott was later tried for murder in Inyo County, California, and received the death penalty for killing a man named White. It is said that he traveled to Merced, California and tried to claim some of the reward money offered for Edwards' capture.
As for Lucky Bill, his story didn't end with his hanging. Rumors grew that Thorrington had survived the gallows.
Dr. Benjamin L. King, who had known Lucky Bill since his arrival in Carson Valley, served on committees to create the Territory of Nevada with him, and who served as an associate judge at Thorrington's trial, had an interesting past.
For years he had experimented with rejuvenating and restoring the dead in a sort of Frankensteinian manner. King was said to have a fascination with Lucky Bill's fine physique, and some of those who knew the two men claimed that King used his talents to revive Thorrington.
There are even assertions that King asked to be able to use Thorrington's body for scientific experiments, and this request was granted.
Some stories claimed that Thorrington was in Colorado, selling real estate, and others professed to have seen him there.
Hank Luftkin, who knew Thorrington well, told that he had just returned from Colorado, and saw and talked to Lucky Bill while there. And there were those who said that the little grave on the hill was a fake, and that Lucky Bill had been secreted away to California.
These allegations continued and piqued the interest of a wide group of people. Then, in 1889, a reporter for the Reno Gazette Journal decided to end the hearsay once and for all.
He, with a group of witnesses, went to the gravesite of Lucky Bill, near the Averill Ranch, to dig up the remains. Inside, they found not the body of Thorrington, but a moldy broken coffin and rocks.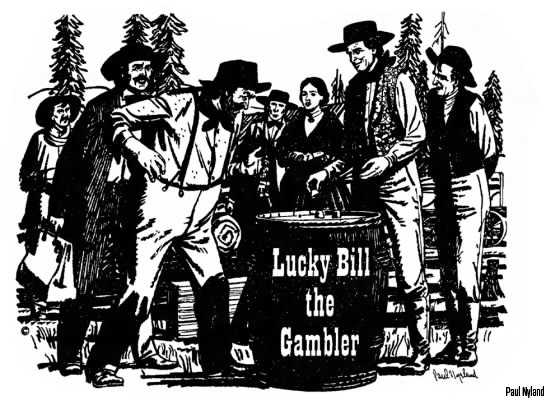 ---
If you are a fan of our weekly history stories you should join the Lassen County Historical Society! It's a fun way to be a part of our county's rich history. When you sign up, you'll receive regular Historical Society newsletters with interesting stories and information. Membership is open to anyone with an interest in area history.
Through your membership you help preserve local history. You can download a membership application by clicking here.