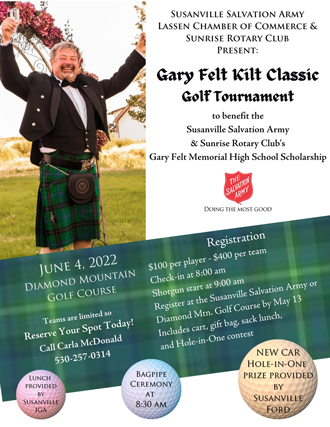 The Lassen County Chamber of Commerce, Susanville Salvation Army and Sunrise Rotary Club will be hosting the Gary Felt Kilt Classic Golf Tournament on June 4th, and there is still time for businesses and individuals to participate by donating to the fundraising raffle.
Felt, a much-loved part of the community who passed away earlier this year after a battle with cancer, was a huge part of all three of the sponsoring organizations.
Lassen County Chamber of Commerce is facilitating the raffle for this event with the proceeds going to local non-profits. Raffle donations can be in the form of Gift Certificates, Raffle Baskets, or Monetary Donations.
Proceeds from the Lassen County Chamber of Commerce's raffle will be stay in the community by donating to Northern California Cancer Advocates and to the Susanville Salvation Army.
All tournament proceeds will benefit the Salvation Army and will be used to help feed families, provide utility, and rent assistance; it will also provide funding for their youth programs like summer camp, back-to-school, and Angel Tree.
Proceeds from the Sunrise Rotary Club's open bar will establish a High School Scholarship in Gary's name.
"Gary Felt, aka Mr. Susanville, touched the heart of our community, and he is deeply missed. We hope this tournament will become an annual event to remember him and keep his spirit of giving and service alive in all of us!" said Chamber Executive Director Kelly Ackley.
"Thank you for your consideration and your continued support. We hope for your participation in the event, whether it be by donation and/or joining us the day of the event at Diamond Mountain Golf Course."
If you have any questions contact the Chamber office at 1.530.257.4323 or stop by 1516 Main Street in Susanville, Monday through Friday, from 9:00a.m. to 4:00p.m.