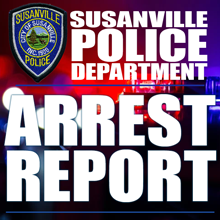 A 19-year-old Susanville man was charged with a single count of homicide early Wednesday morning, after police say he assaulted a 56-year-old man who died from his wounds shortly after being transported to Banner Lassen Medical Center.
Just before 3:00a.m., according to details released by the Susanville Police Department, Dispatch received a 911 call reporting that an assault had taken place in the 600 block of Plum Street.
Police arrived on-scene less than two minutes after being dispatched and were directed to the backyard of the residence, where a 56-year-old man was located sitting in a chair.
"Officers observed the male had a severe injury to his chest and began medical aid treatment until medics and Susanville Fire Department personnel arrived on scene," explains SPD Captain Michael Bengoa-Bollinger.
The male victim was transported to Banner Lassen Medical Center while Officers remained on scene to conduct their investigation.
"After speaking with witnesses at the scene, Officers were directed to and contacted a person who was identified as the alleged assailant in another backyard. The subject was identified as Terry Peter."
Peter was taken into custody without incident.
While officers were still collecting evidence and taking statements, at around 3:45a.m., Banner Lassen Medical Center contacted the dispatch center and advised them that the victim had succumbed to his injury.
"Peter was transported and booked into the Lassen County Jail on a single count of Homicide. Lassen County Sheriff's Office responded to conduct the Coroners Case and scheduling of the autopsy at the Washoe County Medical Examiner's Office in Reno, Nevada."
Because this incident is in the initial phase of the investigation, future details of the incident and the name of the victim will be released after notification to next of kin has been completed.
The case will be referred to the Lassen County District Attorney for review.