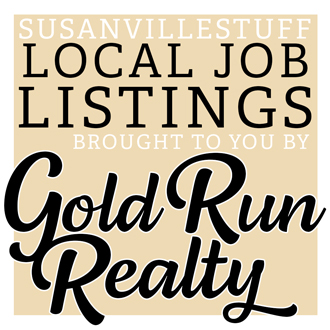 City of Susanville: Honey Lake Valley Community Pool – Pool Maintenance Worker
HONEY LAKE VALLEY COMMUNITY POOL
The City of Susanville is accepting
applications for the part-time position
of Pool Maintenance Worker.
Under general supervision of the Pool
Director the Pool Maintenance Worker
will assist in the maintenance, repair
and general upkeep of the Honey Lake
Valley Community Pool; including its
grounds, buildings and equipment.

Hourly Wage: $15.88 – $17.96
ESSENTIAL DUTIES AND RESPONSIBILITIES:
• Maintains and assists in balancing the pool chemical levels according to California health codes;
• Check PH and Chlorine levels daily, and add chemicals and treatments to pool as directed by the Pool Director;
• Sweeps, cleans and vacuums pool on a scheduled basis;
• Repair and maintain pool vacuums as needed;
• Keep mechanical room and its equipment in good working order;
• Perform and clean chlorinator;
• Clean strainer basket, balancing tanks, backwash filters, pool gutters and surrounding decks;
• Assist with winterizing and de-winterizing the pool and facility semi-annually;
• Maintain and repair sprinkler system and landscaping of pool facility areas by mowing, trimming, reseeding and fertilizing as needed;
• Perform minor facility repairs as needed;
• Assist with facility improvement projects as needed;
• Prepare the pool and facility for special events including swim meets;
• Perform other duties as needed and assigned.
ADDITIONAL EXPERIENCE or ABILITY to:
Understand pool patterns and recognize when equipment is not functioning properly.
Deal with members of the public in a tactful and professional manner.
Work cooperatively and effectively with others.
Work outside for long periods of time in all kinds of weather, performing tasks that require physical strength and endurance.
Understand and communicate oral and written instructions.
Plan and organize work to complete tasks within a prescribed time frame.
Basic math to be able to perform a variety of calculations.
Safe work methods and safety practices related to the work
being performed or tools and equipment used.
Knows the proper and safe use of hand and power tools.
QUALIFICATIONS:
Minimum Qualifications:
• Musts be at least 18 years of age
Preferred qualifications:
• Experience in grounds/landscape maintenance, construction, mechanics, or aquatic Facilities
Licenses/Certificates:
• Possession of or ability to obtain and maintain a California Driver's License
APPLICATIONS DUE: Open Until Filled – First Review July 12, 2022, 4:00p.m.
Applications are available on the City of Susanville Website, www.cityofsusanville.org and may be mailed or dropped off at:
City of Susanville
Attn: City Clerk
66 N. Lassen Street
Susanville, CA 96130
The City of Susanville does not discriminate on the basis of race, religion, color, sex (including pregnancy, gender identity, and sexual orientation), parental status, national origin, age, disability, family medical history or genetic information, political affiliation, military service, or other non-merit based factors.