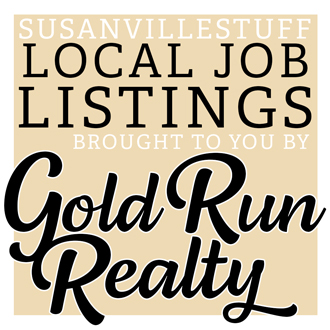 Lassen County Arts Council: Gallery Host
20 Hours per Week- Thursday to Saturday (subject to change)
$15.50 per hour • Maintains an hourly timesheet detailing work turned in biweekly
The Gallery Host will report to the Program Coordinator of LCAC.

Job Overview
The Gallery Host is responsible for assisting Program Coordinator with gallery logistics and operations.

Responsibilities and Duties
• Staff the gallery during normal business hours (seasonally change some) as well as events outside of
normal business hours.
• Engages visitors in the gallery. Processes Gallery sales.
• Liaisons with gallery artists.
• Maintains current records of artist gallery and show inventories.
• Maintains gallery, gift shop and LCAC art supply cache.
• Intake and outgoing process's for artist items for shows.
• Assist with shows. This includes show prep, show hanging, receptions, show take down, etc.,
• Assist with Art class logistics, this includes class set up & clean up (supplies, tables, chairs, easels, etc.,)
co-ordinate with Art class teachers for class planning, etc.,
• Maintains and cleans gallery and works with staff to keep the exterior of the building trash and debris free.
• Assist with LCAC Gallery/Office minor repairs and painting as needed.

Qualifications
• High School education (12th) or equivalent required.
• Retail experience preferred.
• California Driver's License required.
• Familiarity with Apple MAC computer, iPad, Square, hard copy receipt, etc.,
• Familiarity with Word programs such as Excel, Word, etc.,
• Well-developed inter-personal communication skills.
• Willingness to provide service to the community by assisting with LCAC events.
• Available to work Saturdays.

Desirable Attributes
• Understanding of the nature of community service work and nonprofit organizations.
• Well-developed problem-solving skills.
• Self-motivated with a willingness to learn.
• Commitment to the position and the organization.
To apply, please submit a letter of interest and a resume to info@lassencountyartscouncil.org