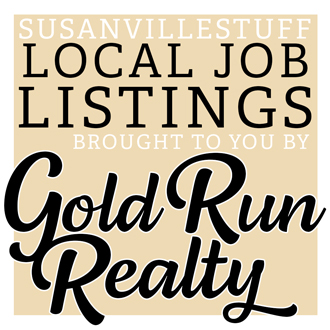 Lassen County Office of Education: Program Coordinator Child and Family Resources (CFR)
Minimum Qualifications:
Child Development Program Director Permit required. Presentation, narrative writing, and record-keeping skills. Knowledge of community resources. Knowledge of local, regional, and state child care requirements. Knowledge of policies and procedures required in child care settings. Ability to carry out duties without close supervision. Experience working with public and community agency staff.
Performance Responsibilities:
Performs State Preschool Director duties. Serves as liaison between LCOE and Transitional Kindergarten staff. Coordinates licensed and exempt care provider services. Provides presentations and technical assistance on child and family issues to community groups and organizations. Performs Exceptional Connections duties. Maintains appropriate records and files as required by Grantor agencies and as needed to effectively support program activities. Ensures that required records and files are correctly and timely submitted. Completes general CFR duties including: referrals, lending library, wait list applications, staff meeting attendance, reception, special activities, and general maintenance of office as needed. Maintains Resource and Referral network data. Performs all other related duties as assigned.
Hours/Salary:
$25.22 – $37.10 per hour. 8 hours per day. Medical, dental, and vision benefits for employee and family.  Cap in place.
Apply Online:
https://www.edjoin.org/Home/DistrictJobPosting/1558538
LCOE Contact:
Courtney Hanna, Human Resources, e-mail:  channa@lcoe.org  (530) 257-7214
EQUAL OPPORTUNITY EMPLOYER
BACKGROUND INVESTIGATIONS WILL BE CONDUCTED