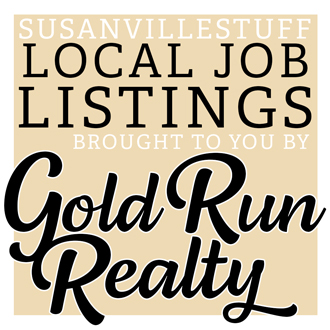 Lassen County Superior Court: Court Clerk I/II – Full Time
Position:
Court Clerk I/II – Full Time
$20.69 – $26.41 hourly DOE
CAREER OPPORTUNITY:
The Superior Court of California, County of Lassen is now accepting applications for a full-time Court Clerk. The Court Clerk Series ranges from Court Clerk I, an entry level classification, up to Court Clerk IV, an advanced journey classification. Position placement and salary will be determined based on experience.

This position is responsible for performing a wide variety of tasks associated with legal processing, courtroom activities, judicial support duties, and maintenance of court records. In this role, incumbents are expected to cross train in all court services divisions and functions as a positive and cooperative team member.

Incumbents work under general supervision to perform duties that are well-defined and in accordance with policies and procedures. Incumbents must maintain confidentiality and must use sound judgment in performing duties.

The successful candidate will be expected to complete assignments with efficiency and accuracy to include: receiving and examining legal documents, preparing and maintaining court documents and exhibits, filing legal documents and related case materials, attending court sessions, recording and transcribing minutes, preparing official records of court proceedings, recording judicial decisions, verdicts, and judgments, completing and processing court appeal documents, providing procedural information, preparing and issuing legal orders, recalling warrants, preparing DMV abstracts, exonerating bail, preparing judgments, sealing, scanning and destroying cases in accordance with established codes and court procedures, accepting and receipting fines and fees, maintaining a balanced cash drawer, maintaining a variety of statistical, legal, and court records, retrieving and preparing records for retention and destruction, operating microfilm equipment, scanners, computers, and other equipment as needed, receiving, sorting, distributing, and transporting mail and files, preparing court calendars, impaneling and polling jurors, as well as other duties as assigned.

Progression through the series includes additional roles and responsibilities in training and supervision.
Benefits: Leave Accrual
Sick: 15 sick days per year with no cap on accumulation.
Vacation: 12 days first year of employment with up to 20 days per year based upon length of service.
Holidays: 14 paid holidays per year and 2 personal holidays.
Minimum Qualifications:
Court Clerk I: An educational level equivalent to a high school diploma or GED and one year of full-time, paid clerical experience involving public contact.

Court Clerk II: At least four years progressively responsible work experience in the classification of the Court Clerk I with Lassen Superior Court, OR five years progressively responsible work experience in a California Trial Court or related field.
License Requirements:
Possession of a valid Class C California's driver's license.
APPLICATION PROCESS:
Applicants may apply online or by submitting a hard copy employment application the Administrative Department at the address below. Incomplete applications will not be accepted. Electronic submittals are preferred.
Superior Court of California County of Lassen
Attention: Administrative Department 2610 Riverside Drive
Susanville, CA 96130
SELECTION PROCESS
The selection process is confidential. Applications received before the deadline will be evaluated to determine if the candidate meets the minimum qualifications. The Court will only interview the candidates that best meet the needs of the Court. Successful candidates may be asked to return for a second interview. Offers of employment are conditional upon successful completion of a pre-employment live scan clearance.

Application Deadline:
Continuous Until Filled

The Superior Court of California, County of Lassen is an equal opportunity employer. If you possess any disabling limitation that would require test/interview accommodation, please inform the Administrative Department upon submittal of the application. Medical disability verification may be required prior to accommodation.