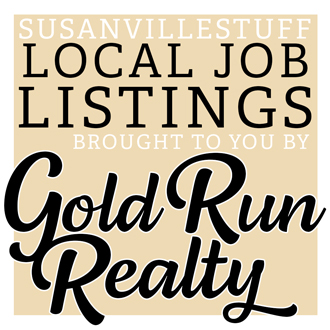 Sierra Cascade Family Opportunities: 5 Positions/Lassen College Campus
Teacher:
Selected candidate must have at least six months classroom experience in preschool setting. Minimum 12 units ECE to meet Community Care Licensing requirements, possess an AA degree ECE. Prefer supervisory experience.
• 40 hours per week, 45 weeks per year
• $21.21-22.45 per hour, depending on experience
Teacher Aide (x2):
Selected candidates will assist in operation of a preschool classroom. Must be 18 and possess a high school diploma or GED. Applicants must be willing to take 12 units in Early Childhood Education within the first year of employment or hold/qualify for a Child Development Associate Teacher Permit.
• 2 positions @ 27.5 hours per week, 43 weeks per year
• $15.34-18.35 per hour, depending on experience
Assistant Caregiver
Must be 18 and possess a high school diploma or GED; 12 units Early Childhood Education
preferred, including; child growth and development; child, family and community; and
program curriculum and infant/toddler coursework, and six months work experience in a
licensed child care center, bilingual skills desirable.
• 40 hours per week, 52 weeks per year
• $15.34-18.35 per hour, depending on experience
Kitchen Aide
Responsible for assisting Kitchen Manager with meal prep, clean-up, food purchasing and monthly paperwork. Must be at least 18 years of age.
• 30 hours per week, 43 weeks per year
• $15.34-15.96 per hour, depending on experience.
Resumes, applications and transcripts due by 5pm June 24, 2022.
Send to Gina Wood
424 N Mill Creed Rd
Quincy, CA 95971
1-800-404-1242
www.headstart4u.org