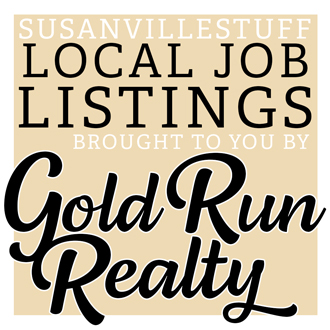 SIRCO Susanville Indian Rancheria Corporation: Maintenance Worker
To apply, contact Human Resources at 530.252.4209 x 5 or by emailing: [email protected]
Position: Maintenance Worker
Date of Announcement: September 30, 2022
Closing Date: January 31, 2023
Hours: Full-time
Salary: $15.00 hr.
Position Summary:
The Maintenance Worker, under the direction of the Maintenance Supervisor, will maintain and repair SIRCO Property Management units and grounds in an efficient and safe manner.
Responsibilities:
Maintain and repair streets, sidewalks, water systems, and buildings.
Repair and/or replace heating and cooling systems, plumbing, and electrical systems.
Maintain and/or repair building interiors.
Maintain and/or repair building exteriors.
Maintain and/or repair fencing.
Maintain landscaping.
Comply with safety rules.
Report and/or correct safety hazards.
Other duties as assigned.
Minimum Qualifications:
High School Diploma/Equivalent.
Six months experience in construction, maintenance, and/or landscaping.
Six months experience with basic hand and power tools.
Ability to lift and carry up to 50 pounds on a regular basis.
Ability to assist in lifting up to 200 pounds.
Ability to work independently.
Ability to understand and follow written and oral instructions
Must have valid Drivers' License and be insurable as determined by SIRCO's insurance policy.
Preference given to qualified Susanville Indian Rancheria Tribal members. Indian preference granted in accordance with PL 93-638.
To apply, contact Human Resources at 530.252.4209 x 5 or by emailing: [email protected]