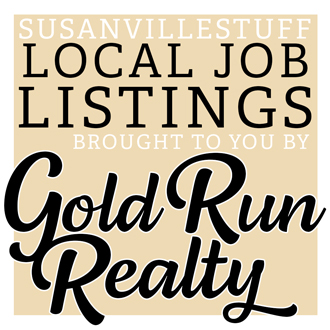 Susanville Indan Rancheria: Dental Sterilization Technician
OPENING DATE OF ANNOUNCEMENT:
May 8, 2023
CLOSING DATE OF ANNOUNCEMENT:
May 22, 2023
POSITION TITLE:
Dental Sterilization Technician
SUPERVISES: No
STARTING SALARY: $15.50 per hour
GRADE: 6
FLSA STATUS: Non-Exempt
NUMBER OF POSITIONS: 1
STATUS: Permanent
HOURS: Full Time
BENEFITS: Highly competitive package *See below

SUBJECT TO P.L. 101-630: Yes, this position works with and around our children and youth and is therefore subject to P.L. 101-630.

GENERAL STATEMENT OF RESPONSIBILITIES:
The purpose of this position is to provide support to the dental team in supplying and maintaining steady inventory of sterile instruments and trays. Work as part of the dental team to continually improve the quality services provided. In this position, you will be required to be constantly alert for ways to improve sterilization procedures to improve patient flow, increase productivity, improve utilization of resources, and communicating ideas to supervisor.

SPECIFIC AREAS OF RESPONSIBILITIES:
Prepares sterile trays in advance and monitors supply of sterilized instruments ensuring instruments are available for procedures scheduled in the clinic.
Maintains instruments and working areas in accordance with sterilization/disinfection protocols.
Performs spore testing, cleans sterilizer, and completes documentation per policy.
Uses proper cleaning procedures for various instruments including use of ultrasound.
Always uses appropriate PPE.
Maintains computerized or written log of all instruments.
Ensures all instruments are in good working condition.
Notifies supervisor when instruments need repair or replacement.
Ensures inventory of all cleaning supplies are up to date and expiration dates are noted.
Prepares purchase order requests for supplies and instruments.
Ensures proper OSHA procedures are followed as per LIHC/SIR and OSHA policy and procedures.
Performs other work-related duties as required by supervisor.
Notifies supervisor of unusual occurrences and adheres to policy regarding incident forms and/or injuries.
Ensures compliance with HIPAA, OSHA, and other regulatory agencies.
Sets the example of exemplary customer service for both internal and external customers. Provides professional, respectful communication with supervisor and co-workers.
Ensures cleanliness of work area during operational hours.
Utilizes good time management skills to ensure all facets of sterilization procedures are completed in a timely manner.
Performs other duties as assigned.

KNOWLEDGE SKILLS AND ABILITIES:
A. Knowledge of the essential functions, practices, and procedures of a dental clinic.
B. Knowledge of dental instruments, names, and usage.
C. Knowledge of OSHA safety standards for handling contaminated instruments, set up of sterile fields, and sterile trays.
D. Skill operating a personal computer utilizing word processing, database, and e-mail.
E. Skill in operating various office equipment such as a computer, copier, facsimile machine, and telephone system.
F. Skill in accuracy and attention to detail.
G. Ability to set up a variety of sterile trays based on provider preference and procedure.
H. Ability to work independently without immediate supervision.
I. Ability to communicate in a courteous and professional manner.

MINIMUM QUALIFICATIONS – ALL APPLICANTS:
Must have a high school diploma or equivalent from an accredited high school.
Must have a valid California driver's license or license from current residence state.
Must pass P.L. 101-630 background check.
Must pass a pre-employment drug test.
Must have a valid CPR card or be able to obtain one within ninety (90) days of hire.
Six (6) months previous dental experience.
Must be able to lift and move up to 20 pounds regularly.
Must be able to work in isolated areas for long periods of time, stand for extended periods of time and perform repetitive work with hands.
Must know OSHA standards for cleaning and sterilization procedures within a
dental clinic.

WORKPLACE ENVIRONMENT:
PHYSICAL SAFETY: The work is sedentary. Typically, the employee may sit comfortably to do the work. However, there may be some walking, standing, bending, carrying of light items, driving an automobile, etc. No special physical demands are required to perform the work.
WORKING ENVIRONMENT: Regular exposure to favorable conditions such as those found in a normal office.

PERFORMANCE EXPECTATIONS:
• Uphold all principles of confidentiality.
• Adhere to all professional and ethical behavior standards.
• Interact in an honest, trustworthy, and respectful manner with employees, visitors, and

PREFERENCE POLICY:
1st Preference: Enrolled member of a Federally Recognized Tribe.
2nd Preference: Documented proof of Veteran Status, i.e., DD-214, Veterans Benefit Card.
3rd Preference: All other applicants.

SIR BENEFITS PACKAGE:
The Susanville Indian Rancheria offers its full-time employees a highly competitive benefits package, including annual cost-of-living increases (based on SSA COLA); eligibility for annual merit increases; twelve paid holidays; thirteen days paid sick leave; up to twenty-six days paid annual leave (depending on length of service); maternity leave; paternity leave; affordable group health, dental, vision, and life insurance; and 401(k) retirement plan.

HOW TO APPLY AND APPLICATION REQUIREMENTS:
All applicants are required to submit a Susanville Indian Rancheria/ Lassen Indian Health Center application. Applications can be found on our website at: www.sir-nsn.gov/human-resources/ (SIR – LIHC – Gaming Commission Application for Employment P.L. 101-630 Requirements) or picked up at 745 Joaquin Street, Susanville, CA.

Only complete applications will be considered. For your application to be considered complete you must attach the following:

Completed Susanville Indian Rancheria/Lassen Indian Health Center Application.
Copy of your High School Diploma AND College Degree or transcripts documenting your graduation or completion of your Degree.
Copy of your valid Driver's License.
Copy of any other certifications required.
Copy of Tribal Card, if claiming Indian Preference.
Copy of DD214 or other proof of Veteran status, if claiming Veteran's Preference.

Complete applications can be dropped off in person to the Human Resources Office at 745 Joaquin Street, Susanville, California, Monday through Friday from 8:00 am to 5:00 pm. They may also be emailed to ramador@sir-nsn.gov or faxed to (530) 251-1895 or mailed to the above address. All applications must be received by 5:00 pm Pacific Standard Time on the closing date of the announcement.