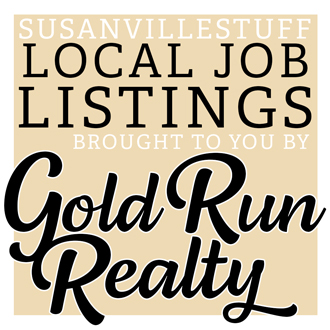 Susanville Indan Rancheria: Staff Accountant (LIHC)
OPENING DATE OF ANNOUNCEMENT:
April 17, 2023
CLOSING DATE OF ANNOUNCEMENT:
May 1, 2023
POSITION TITLE: Staff Accountant (LIHC)
SUPERVISES: No
STARTING SALARY: $28.77 to $35.97 Depending on Experience
GRADE: 14
FLSA STATUS: Non-Exempt
NUMBER OF POSITIONS: 1
STATUS: Permanent
HOURS: Full Time
BENEFITS: Highly competitive package *See below

SUBJECT TO P.L. 101-630: This position works with and around our children and youth and is therefore subject to P.L. 101-630.

GENERAL STATEMENT OF RESPONSIBILITIES:
The Staff Accountant will be responsible for understanding Lassen Indian Health Center (LIHC) clinic processes, ensuring compliance to policies relating to accounting, performing internal audit functions for clinic accountability, and monitoring the clinic's general ledger for accuracy.

SPECIFIC AREAS OF RESPONSIBILITIES:
• Reviewing clinic general ledger accounts monthly for accuracy.
• Auditing and tracking clinic purchase orders.
• Approving monthly analysis reports for Patient and Referred Care (PRC) patient travel in state and out of state. Also helping facilitate proper approval for PRC pharmacy eligible expenditures and reconciling monthly.
• Maintaining an inventory log for clinic supplies and initiating purchasing of new supplies at a reorder point. Also, providing analysis of supply usage by department.
• Perform an internal audit of inventory in pharmacy twice a year.
• Work with clinic billing manager to review denied claims and accounts receivable aging.
• Spot check cash boxes for cash on hand at clinic registers.
• Review all processes from patient entry to payment of services to improve controls and allow for analysis of productivity.
• Access Greenway and RX30 for reports.
• Assist the billing manager in potential statement mailings.
• Ensure all contractual agreements are is paid timely per contract, such as Native American Mental Health (NAMH).
• Review vendors and ensure that LIHC has contracts with approved vendors. Create a list of standard vendors for LIHC use.
• Invoice all contracts, memorandum of agreements, memorandum of understanding for all accounts receivables due monthly to LIHC in a timely manner. CIMC, TMAA, etc.
• Work with controller to analyze reports relating to provider productivity and review General Ledger activity for the clinic.
• Quarterly (change to monthly) billing to CIMC for reimbursement of eatery costs.
• Other duties as assigned.

KNOWLEDGE SKILLS AND ABILITIES:
A. Ability to understand and comprehend the different business and program activities of the tribal government and health clinic to support the compliance requirements for various agencies.
B. Excellent written and verbal communication skills.
C. Knowledge of governmental accounting standard board requirements.

MINIMUM QUALIFICATIONS:
Must have a high school diploma or equivalent from an accredited high school.
Must have a valid California driver's license or license from current residence state.
Must pass pre-employment background check.
Must pass a pre-employment drug test.
Must have a valid CPR card or be able to obtain one within ninety (90) days of hire.
Bachelor's degree in accounting or business administration with accounting concentration or an associate degree or a combination of education and experience totaling eight (8) years.
Three (3) to five (5) years of experience in public or fund accounting.
Minimum of three (3) years-experience maintaining and operating a budget for a complex organization with multiple funding sources and departments.
Must be proficient in Accounting, Math, Excel, and Word.

WORKPLACE ENVIRONMENT:
PHYSICAL SAFETY: The work requires moderate physical exertion such as long periods of standing repetitively lifting lightweight objects with frequent bending or stooping, recurring lifting of moderately heavy items such as computer, printers, or record boxes. Occasionally lifts heavy objects (over 50 pounds). Job requires average agility and dexterity.
WORKING ENVIRONMENT: Regular exposure to favorable conditions such as those found in a normal office.

PERFORMANCE EXPECTATIONS:
• Uphold all principles of confidentiality.
• Adhere to all professional and ethical behavior standards.
• Interact in an honest, trustworthy, and respectful manner with employees, visitors, and

PREFERENCE POLICY:
1st Preference: Enrolled member of a Federally Recognized Tribe.
2nd Preference: Documented proof of Veteran Status, i.e., DD-214, Veterans Benefit Card.
3rd Preference: All other applicants.

SIR BENEFITS PACKAGE:
The Susanville Indian Rancheria offers its full-time employees a highly competitive benefits package, including annual cost-of-living increases (based on SSA COLA); eligibility for annual merit increases; twelve paid holidays; thirteen days paid sick leave; up to twenty-six days paid annual leave (depending on length of service); maternity leave; paternity leave; affordable group health, dental, vision, and life insurance; and 401(k) retirement plan.

HOW TO APPLY AND APPLICATION REQUIREMENTS:
All applicants are required to submit a Susanville Indian Rancheria/ Lassen Indian Health Center application. Applications can be found on our website at: www.sir-nsn.gov/human-resources/ (SIR – LIHC – Gaming Commission Application for Employment P.L. 101-630 Requirements) or picked up at 745 Joaquin Street, Susanville, CA.

Only complete applications will be considered. For your application to be considered complete you must attach the following:

Completed Susanville Indian Rancheria/Lassen Indian Health Center Application.
Copy of your High School Diploma AND College Degree or transcripts documenting your graduation or completion of your Degree.
Copy of your valid Driver's License.
Copy of any other certifications required.
Copy of Tribal Card, if claiming Indian Preference.
Copy of DD214 or other proof of Veteran status, if claiming Veteran's Preference.

Complete applications can be dropped off in person to the Human Resources Office at 745 Joaquin Street, Susanville, California, Monday through Friday from 8:00 am to 5:00 pm. They may also be emailed to ramador@sir-nsn.gov or faxed to (530) 251-1895 or mailed to the above address. All applications must be received by 5:00 pm Pacific Standard Time on the closing date of the announcement.