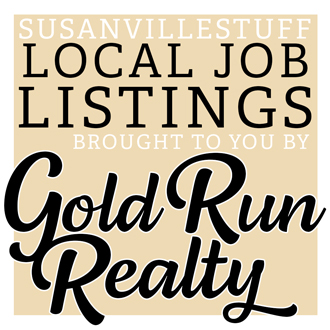 Susanville Indian Rancheria: Custodian
OPENING DATE OF ANNOUNCEMENT: June 8, 2022
CLOSING DATE OF ANNOUNCEMENT: June 22, 2022

POSITION TITLE: Custodian
SUPERVISES: No
STARTING SALARY: $15.00 to $18.47 depending on experience
GRADE: 06
FLSA STATUS: Non-Exempt
NUMBER OF POSITIONS: 1
STATUS: Temporary – NTE 4 months
HOURS: Full Time (3pm to 11:30 pm)
BENEFITS: None
SUBJECT TO P.L. 101-630: No
GENERAL STATEMENT OF RESPONSIBILITIES:
Under general supervision, performs a wide variety of custodial duties and related work as required.
SPECIFIC AREAS OF RESPONSIBILITIES:
• Empties and lines waste receptacles and disposes of trash daily. On weekly basis cleans waste receptacles. Empties and lines Bio-hazard waste receptacles and disposes of trash in Bio-hazard storage containers.
• Cleans and disinfects all restrooms – sinks, toilets, and urinals daily.
• Disinfects and cleans light switches, fixtures, kitchen appliances, walls, floors, counter tops, lunchroom tables, doors and work surfaces of marks, dust, and grime daily. Cleans walls, ventilation covers, sills, baseboards, windows, and blinds weekly.
• Spot cleans carpets as needed. Shampoos carpets and waxes floors quarterly.
• Fills all paper towel, toilet tissue and liquid soap dispensers daily.
• Schedules and reports to supervisor, routine repairs and tune-ups to maintenance equipment and maintenance to exterior and interior structure of clinic building.
• May provide work direction to individuals on special work programs.
• Observes safe working practices, including maintaining storage areas in safe working
condition.
• Report all safety or fire hazards immediately. Obtain necessary work orders for repairs.
• Will respond to work orders based upon the priority status designated on the work order.
Work orders will be considered complete when passing all SIR quality and safety
standards. Will advise the supervisor if the work order cannot be completed in a timely
manner.
• Keeps monthly inventory of supplies that must be submitted by the 10th of the month to
be ordered by the supervisor.
• Other duties as assigned.
KNOWLEDGE SKILLS AND ABILITIES:
A. Ability to understand and follow written and oral instructions.
B. Ability to complete assignments without immediate supervision.
C. Ability to establish and maintain effective working relationships with co-workers.
D. Knowledge of proper cleaning methods, and the safe usage of cleaning materials,
disinfectants, custodial tools, and equipment.
E. Knowledge of safety practices and equipment related to custodial work.
MINIMUM QUALIFICATIONS:
Must have a high school diploma or equivalent from an accredited high school.
Must have a valid California driver's license or license from current residence state.
Must pass pre-employment background check.
Must pass a pre-employment drug test.
Must have a valid CPR card or be able to obtain one within ninety (90) days of hire.
One-year experience in janitorial or custodial work or equivalent related experience.
Must be physically able to perform heavy labor and maneuver equipment weighing up to 40 pounds.
must be willing to work night shift.
WORKPLACE ENVIRONMENT:
1. PHYSICAL SAFETY: TThe work requires moderate physical exertion such as long periods of standing repetitively lifting lightweight objects with frequent bending or stooping, recurring lifting of moderately heavy items such as computer, printers, or record boxes. Occasionally lifts heavy objects (over 50 pounds). Job requires average agility and dexterity.
2. WORKING ENVIRONMENT: Regular exposure to unfavorable environments such as weather, body fluids, toxic laboratory, and industrial chemicals, or confined, dirty and noisy locations. Employees may be required to use personal protective equipment such as masks, coats, gowns, boots, goggles, gloves, or shields.
PERFORMANCE EXPECTATIONS:
• Uphold all principles of confidentiality.
• Adhere to all professional and ethical behavior standards.
• Interact in an honest, trustworthy and respectful manner with employees, visitors and vendors.
• Participate in departmental staff meetings, quality management activities, cultural and educational programs.
• Comply with policies and procedures.
• Display respect and understanding of Susanville Indian Rancheria's traditions and values.
• The way the employee relates to fellow employees, customers and visitors is considered parallel in importance to technical knowledge and ability.
• Any attitude or behavior that will tarnish the name or reputation of the Susanville Indian Rancheria will not be tolerated and is subject to disciplinary action.
PREFERENCE POLICY:
1st Preference: Enrolled member of a Federally Recognized Tribe.
2nd Preference: Documented proof of Veteran Status, i.e. DD-214, Veterans Benefit Card.
3rd Preference: All other applicants.
HOW TO APPLY AND APPLICATION REQUIREMENTS:
All applicants are required to submit a Susanville Indian Rancheria/ Lassen Indian Health Center application. Applications can be found on our website at: www.sir-nsn.gov/human-resources/ (SIR – LIHC – Gaming Commission Application for Employment P.L. 101-630 Requirements) or picked up at 745 Joaquin Street, Susanville, CA.
Only complete applications will be considered. For your application to be considered complete you must attach the following:
1. Completed Susanville Indian Rancheria/Lassen Indian Health Center Application.
2. Copy of your High School Diploma or College Degree or transcripts documenting your graduation or completion of your Degree.
3. Copy of your valid Driver's License.
4. Copy of any other certification required.
5. Copy of Tribal Card, if claiming Indian Preference.
6. Copy of DD214 or other proof of Veteran status, if claiming Veteran's Preference.
7. An additional statement on how you meet each minimum qualification.
Complete applications can be dropped off in person to the Human Resources Office at 745 Joaquin Street, Susanville, California, Monday through Friday from 8:00 am to 5:00 pm. They may also be emailed to wbrown@sir-nsn.gov or faxed to (530) 251-1895 or mailed to the above address. All applications must be received by 5:00 pm Pacific Standard Time on the closing date of the announcement.