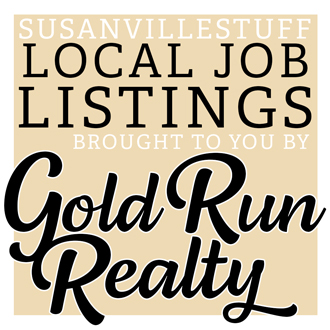 Susanville Indian Rancheria: Registered Dental Assistant
OPENING DATE OF ANNOUNCEMENT: June 22, 2022
CLOSING DATE OF ANNOUNCEMENT: Until Filled
First Cut-Off Date 07 06 22
Second Cut-Off Date 07 20 22
Third Cut-Off Date 08 03 22
Fourth Cut-Off Date 08 17 22
POSITION TITLE: Registered Dental Assistant
SUPERVISES: No
STARTING SALARY: $21.88 to $27.35 depending on experience
GRADE: 11
FLSA STATUS: Exempt or Non-Exempt
NUMBER OF POSITIONS: 1
STATUS: Permanent
HOURS: Full Time
BENEFITS: Highly competitive package *See below
SUBJECT TO P.L. 101-630: Yes – This position works with and around our children and youth and is therefore subject to P.L. 101-630.
GENERAL STATEMENT OF RESPONSIBILITIES:
The Registered Dental Assistant (RDA) prepares patients for dental treatment and examinations and assists the Dentist at the chair during patient treatment. They review patient records to determine the instruments and materials that will be needed; take x-rays of teeth and jaws. The RDA also mixes and handles dental materials and makes preliminary impressions for dental prosthesis. In addition, they sterilize instruments, utensils, dressings, and equipment; clean dental rooms and equipment; and inventory and order supplies as needed. The RDA maintains patient records, performing simple dental lab work, and other related work as required and assigned by the dentist.
SPECIFIC AREAS OF RESPONSIBILITIES:
• Provides preventative dental education to clinic patients and community groups when required by dentist.
• Prepares patients for treatment and examination by seating the patient, adjusting the chair at a convenient angle, and draping the patient.
• Reviews patient's record to determine what instruments and material will be needed and lays them out.
• Takes x-rays of teeth and jaws as assigned by dentist.
• Procures charts and records needed by the dentist.
• Provides oral suction, retraction, and other assistance during oral surgery.
• Fabricates and cements temporary crowns. Removes excess cement after permanent crown
cementation.
• Mixes and handles dental materials. Makes preliminary impressions for dental prostheses.
• Sterilizes instruments, utensils, dressings, and equipment.
• Maintains patient records by indicating the type of work performed.
• Cleans dental rooms and equipment.
• May perform coronal polishing of the teeth, apply fluoride varnish and/or pit and fissure
sealants.
• Places post-extraction and periodontal dressings. Removes sutures or post-operative
irrigation as assigned by dentist.
• Passes instruments and materials to the dentist upon request.
• Inventories supplies and orders routine supplies as needed.
• Other duties as assigned.
KNOWLEDGE SKILLS AND ABILITIES:
A. Ability to get along with supervisors, co-workers, and patients.
B. Knowledge of dental equipment, instruments, utensils, and dressings.
C. Skill in passing instruments and materials to the dentist.
D. Ability to inventory supplies and order routine supplies.
E. Skill in fabricating and cementing temporary crowns.
F. Ability to provide preventative dental education to patients and community groups.
G. Ability to perform coronal polishing of the teeth, apply fluoride varnish and sealants.
MINIMUM QUALIFICATIONS:
Must have a high school diploma or equivalent from an accredited high school.
Must have a valid California driver's license or license from current residence state.
Must pass P.L. 101-630 background check.
Must pass a pre-employment drug test.
Must have a valid CPR card or be able to obtain one within ninety (90) days of hire.
Graduate from a board-approved RDA educational program (preferred); or complete at least 15 months (1280 hours) of satisfactory work experience as a dental assistant with a dentist licensed in the United States; or complete a California Department of Education approved 4-month educational program and 11 months of work experience with a dentist licensed in the United States.
Must have a valid license as a Registered Dental Assistant issued by the State of California
Board of Dental Examiners.
Complete a board-approved course in coronal polishing.
Complete a board-approved course in radiation safety.
Complete an eight (8) hour board-approved courses in infection control.
WORKPLACE ENVIRONMENT:
PHYSICAL SAFETY: The work requires minor physical exertion, such as short periods of standing, walking over rough uneven surfaces, some recurring bending, crouching, stooping, stretching, reaching, or similar activities. Job may require recurring lifting of lightweight objects with infrequent bending or stooping alternating with the lighter activities. Job requires minimal agility and dexterity.
WORKING ENVIRONMENT: Regular exposure to unfavorable environments such as weather, body fluids, toxic laboratory and industrial chemicals, or confined, dirty and noisy locations. Employees may be required to use personal protective equipment such as masks, coats, gowns, boots, goggles, gloves, or shields.
PERFORMANCE EXPECTATIONS:
• Uphold all principles of confidentiality.
• Adhere to all professional and ethical behavior standards.
• Interact in an honest, trustworthy and respectful manner with employees, visitors and vendors.
• Participate in departmental staff meetings, quality management activities, cultural and educational programs.
• Comply with policies and procedures.
• Display respect and understanding of Susanville Indian Rancheria's traditions and values.
• The way the employee relates to fellow employees, customers and visitors is considered parallel in importance to technical knowledge and ability.
• Any attitude or behavior that will tarnish the name or reputation of the Susanville
PREFERENCE POLICY:
1st Preference: Enrolled member of a Federally Recognized Tribe.
2nd Preference: Documented proof of Veteran Status, i.e. DD-214, Veterans Benefit Card.
3rd Preference: Non-Native applicant.
SIR BENEFITS PACKAGE:
The Susanville Indian Rancheria offers its Full-Time employees a highly competitive benefits package, including: annual cost-of-living increases (based on SSA COLA); eligibility for annual merit increases; twelve paid holidays; thirteen days paid sick leave; up to twenty-six days paid annual leave (depending on length of service); maternity leave; paternity leave; affordable group health, dental, vision, and life insurance; and 401(k) retirement plan.
HOW TO APPLY AND APPLICATION REQUIREMENTS:
All applicants are required to submit a Susanville Indian Rancheria/ Lassen Indian Health Center application. Applications can be found on our website at: www.sir-nsn.gov/human-resources/ (SIR – LIHC – Gaming Commission Application for Employment P.L. 101-630 Requirements) or picked up at 745 Joaquin Street, Susanville, CA.
Only complete applications will be considered. For your application to be considered complete you must attach the following:
1. Completed Susanville Indian Rancheria/Lassen Indian Health Center Application.
2. Copy of your High School Diploma or College Degree or transcripts documenting your graduation or completion of your Degree.
3. Copy of your valid Driver's License.
4. Copy of any other certification required.
5. Copy of Tribal Card, if claiming Indian Preference.
6. Copy of DD214 or other proof of Veteran status, if claiming Veteran's Preference.
7. An additional statement on how you meet each minimum qualification.
Complete applications can be dropped off in person to the Human Resources Office at 745 Joaquin Street, Susanville, California, Monday through Friday from 8:00 am to 5:00 pm. They may also be emailed to ramador@sir-nsn.gov or faxed to (530) 251-1895 or mailed to the above address. All applications must be received by 5:00 pm Pacific Standard Time on the closing date of the announcement.