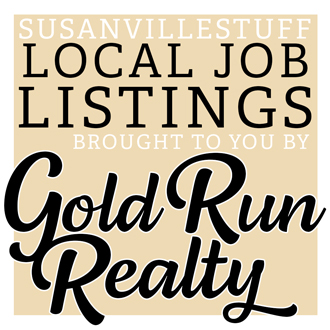 Susanville Indian Rancheria: Staff Attorney
OPENING DATE OF ANNOUNCEMENT: June 9, 2022
CLOSING DATE OF ANNOUNCEMENT: June 23, 2022
Second Cut-Off: July 7, 2022
Third Cut-Off: July 21, 2022
POSITION TITLE: Staff Attorney
SUPERVISES: No
STARTING SALARY: $150,000.00 /yr.
GRADE: 20
FLSA STATUS: Exempt
NUMBER OF POSITIONS: 1
STATUS: Permanent
HOURS: Full Time
BENEFITS: Highly competitive package *See below
SUBJECT TO P.L. 101-630: Yes, This position works with and around our children and youth and is therefore subject to P.L. 101-630.
GENERAL STATEMENT OF RESPONSIBILITIES:
The Staff Attorney provides legal counsel and representation to the Susanville Indian Rancheria (SIR) Tribal Chairman, Tribal Business Council, Tribal Administrator and Department Directors, Managers, and Supervisors on legal and quasi-legal matters as directed by the Tribal Chairman, Tribal Business Council and Tribal Administrator.
SPECIFIC AREAS OF RESPONSIBILITIES:
• Provides legal counsel and representation including, but not limit to, the preparation of pleadings, trial and appellate court briefs, negotiations between parties, trial, and hearing at the original level of jurisdiction or on appeal, and other tribal, state, or federal court or hearing appearances in the best interests of SIR.
• Prepares and renders legal opinions and direction concerning the SIR, its governmental functions, jurisdiction, procedures, and policies and performs the necessary legal research to support the legal advice provided.
• Provides legal advice to all SIR Departments on general governance matters and drafts policies in support of such advice.
• Provides legal assistance in the drafting of documents, ordinances, rules, regulations, applications of diverse kind, and other legal or quasi-legal papers at the request of the Tribal Chairman, Tribal Business Council, or management staff, and approves the above- mentioned documents as to legality and written format.
• Writes, reviews, and approves contractual agreements including vendor, consultant, construction, architectural, commercial real estate, ground leases, subleases, easements and right of way, and other related documents.
• Provides legal assistance to SIR gaming operations, including drafting, negotiation and review of gaming supplier and non-gaming supplier contracts; gaming compact/regulatory compliance; and legal advice to the Tribal Gaming Commission.
• Performs real estate due diligence, land into trust applications and related matter, and advises the SIR on the legal aspects of construction, economic development projects, and related planning issues.
• Provides legal advice and prepares documents policies and procedures related to Tribal self-determination, and self-governance.
• Researches and prepares legal analysis and proposed legislation proposed by the SIR for presentation to the California State Legislature and/or the United States Congress.
• Appears before Federal, State, and local legislative, executive, and administrative bodies to represent SIR or to present legal or quasi-legal information on related matters.
• Regularly attends and provides legal counsel at meetings of the Tribal Business Council, ad hoc committee meetings and other sessions, conferences or related functions as requested by the Tribal Business Council; and
• Provides regular, monthly report to the Tribal Business Council in written format.
• Develops legal department to properly house all legal and governmental documents in both paper and electronic form.
• Other duties as assigned.
KNOWLEDGE SKILLS AND ABILITIES:
A. Knowledge of Indian laws and sovereign immunity status through professional experience.
B. Ability to perform advanced computer functions, particularly word processing skills.
C. Ability to successfully communicate in English, both verbally and in writing.
D. Knowledge of Tribal law, Federal Law, and California law regulations and statues.
MINIMUM QUALIFICATIONS:
Must have a high school diploma or equivalent from an accredited high school.
Must have a valid California driver's license or license from current residence state.
Must pass P.L. 101-630 background check.
Must pass a pre-employment drug test.
Must have a valid CPR card or be able to obtain one within ninety (90) days of hire.
Must have a Doctorate of Law degree from an accredited school of law.
Must have ten (10) years of professional experience in private or public sector law practice, with at least two (2) years' experiences in Tribal law, preferably involving tribal governance, commercial transactions, construction, commercial property, and real estate transactions on tribal land.
Must be admitted to the California State Bar after one (1) year from date of hire and the expense will be paid by the SIR and CLE expenses and travel will be paid by SIR.
Experience and capability in the preparation and review of contracts, leases, and/or other legal documents as evidenced by pre-employment submissions of work product.
Must have appreciation and respect for the tribal culture and practices, preferably with experience relating thereto.
PERFORMANCE EXPECTATIONS:
• Uphold all principles of confidentiality.
• Adhere to all professional and ethical behavior standards.
• Interact in an honest, trustworthy and respectful manner with employees, visitors and vendors.
• Participate in departmental staff meetings, quality management activities, cultural and educational programs.
• Comply with policies and procedures.
• Display respect and understanding of Susanville Indian Rancheria's traditions and values.
• The way the employee relates to fellow employees, customers and visitors is considered parallel in importance to technical knowledge and ability.
• Any attitude or behavior that will tarnish the name or reputation of the Susanville Indian Rancheria will not be tolerated and is subject to disciplinary action.
PREFERENCE POLICY:
1st Preference: Enrolled member of a Federally Recognized Tribe.
2nd Preference: Documented proof of Veteran Status, i.e. DD-214, Veterans Benefit Card.
3rd Preference: Non-Native applicant.
SIR BENEFITS PACKAGE:
The Susanville Indian Rancheria offers its Full-Time employees a highly competitive benefits package, including: annual cost-of-living increases (based on SSA COLA); eligibility for annual merit increases; twelve paid holidays; thirteen days paid sick leave; up to twenty-six days paid annual leave (depending on length of service); maternity leave; paternity leave; affordable group health, dental, vision, and life insurance; and 401(k) retirement plan.
HOW TO APPLY AND APPLICATION REQUIREMENTS:
All applicants are required to submit a Susanville Indian Rancheria/ Lassen Indian Health Center application. Applications can be found on our website at: www.sir-nsn.gov/human-resources/ (SIR – LIHC – Gaming Commission Application for Employment P.L. 101-630 Requirements) or picked up at 745 Joaquin Street, Susanville, CA.
Only complete applications will be considered. For your application to be considered complete you must attach the following:
1. Completed Susanville Indian Rancheria/Lassen Indian Health Center Application.
2. Copy of your High School Diploma or College Degree or transcripts documenting your graduation or completion of your Degree.
3. Copy of your valid Driver's License.
4. Copy of any other certification required.
5. Copy of Tribal Card, if claiming Indian Preference.
6. Copy of DD214 or other proof of Veteran status, if claiming Veteran's Preference.
7. An additional statement on how you meet each minimum qualification.
Complete applications can be dropped off in person to the Human Resources Office at 745 Joaquin Street, Susanville, California, Monday through Friday from 8:00 am to 5:00 pm. They may also be emailed to ramador@sir-nsn.gov or faxed to (530) 251-1895 or mailed to the above address. All applications must be received by 5:00 pm Pacific Standard Time on the closing date of the announcement.