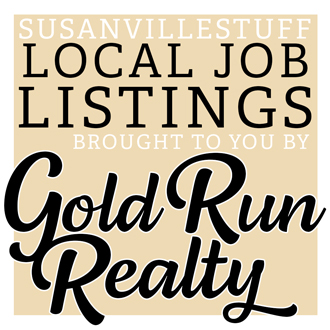 Susanville Sanitary District – Lead WWTP Operator Grade III
The Susanville Sanitary District is seeking a Lead WWTP Operator Grade III.
Basic job requirements include a valid California driver's license with an acceptable driving record, valid class B California driver's license (within 6 months), Wastewater Operator Certificate Grade III from the CA State Water Resources Control Board, and a High School Diploma or GED. Please see the full draft job description on the district website (below).
Salary
Monthly salary depending on qualifications $5,118 -$6221/month
Benefits
The district offers an excellent benefits package of PERS retirement (2.5% @ 55 if already a classic PERS member or 2% @ 62 for new members). 95% of the medical, dental, and vision package is paid by the District.
All individuals offered District employment must pass a pre-employment drug screen and physical examination.
Download the application and view the job description at www.susanvillesanitarydistrict.com. Please return the application with resume to the district office at SSD 45 S. Roop St. Susanville, CA 96130.