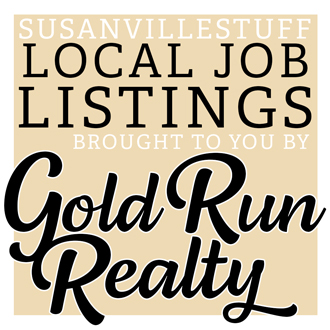 Susanville School District – Health Clerk/Meadow View School

The Susanville School District announces the following limited-term classified vacancy:
POSITION: One (1) 7.0 hours per day Health Clerk for Meadow View School Limit Term Vacancy 08/17/2022 – 06/08/2023 for the 22/23 School Year
ASSIGNMENT: 5 days per week/School Year Position/PERS Retirement
DUTIES:
Job Description available at the Susanville School District Office.
REQUIREMENTS:
Valid First Aid Certificate and CPR training
Ability to type 30 words per minute. Two or more years of college are desirable. A valid California Driver's License. Must be able to administer injections to children. Passage of District Health Clerk Test.
START SALARY:
$16.78 – $17.63 with 25% differential for LVN Certification
APPLICATION PROCEDURE:
Applicants may apply in person, via email or at www.Edjoin.org:
APPLY TO:
Susanville School District
Allison Lonergan
109 S. Gilman St.
Susanville, CA 96130
530.257.8200
530.257.8246 fax
APPLICATION DEADLINE:
Tuesday, July 5th, 2022 at 4:00 p.m.