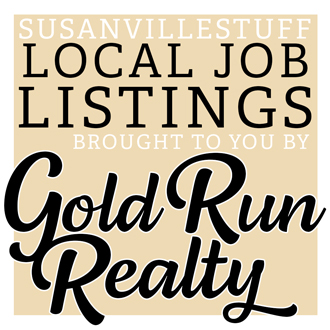 Susanville School District – Paraprofessional Diamond View/Resource Paraprofessional Meadow View
The Susanville School District announces the following classified vacancies for the 2022-2023 school year:
POSITION:
One (1) 5.92 hours per day Paraprofessional position at Diamond View
One (1) 5.92 hours per day Resource Paraprofessional position at Meadow View
DUTIES:
Job Description available at the Susanville School District Office.
REQUIREMENTS:
Paraprofessional & Resource Paraprofessional: Associate Degree or 48 college units or passage of paraprofessional exam. Current First Aid and CPR certificate is desirable.
SALARY & BENEFITS
Paraprofessional & Resource Paraprofessional: $15.97 – $16.78
Life Insurance for Employee & Family for all positions
APPLICATION PROCEDURE:
Applicants may apply in person, via email or at www.Edjoin.org:
APPLY TO:
Susanville School District
Allison Lonergan
109 S. Gilman St.
Susanville, CA 96130
530.257.8200
530.257.8246 fax
APPLICATION DEADLINE:
Open Until Filled