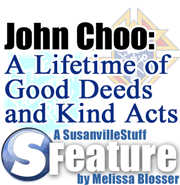 A SusanvilleStuff Volunteer Week Feature
by Melissa Blosser
Many of us get into the spirit of giving during the holidays or write an occasional check to a charity, but for John Choo, charity work is a part of his daily routine.
"When I was around ten, social services used to come to my house and would bring us food," said John Choo. "People were good to us and I thought when I grow up I am going to pay back," he said.
John Choo, married to Helen Choo, has 8 children, 20 great-grandchildren and 31 great grand children and has lived in Susanville for 64 years. Choo began his career in Susanville working in the Lumber Mill and then was drafted into the military for a short time before World War Two ended.
When he returned home he became a Knight of Columbus and worked every Thanksgiving serving Turkey dinners to those in need. Choo figured out that the Salvation Army was also serving a dinner at the same time and he suggested a collaboration between the two groups.
"We got together compared lists and decided to combine our Turkey Dinners, and from there on I started to help with the Salvation Army," Choo said.
Choo has been a part of the salvation Army since 1978 working in the thrift shop on Gay Street, and when it closed Choo stayed on to help with the food distribution. At one point the Salvation Army Struggled to stay open, but Choo along with five others fought to keep it going.
"When the Salvation Army hired some paid help, I didn't apply," said Choo. "I am too soft-hearted, I'd give away the store," he said.
Choo's biggest responsibility comes during the holidays when he organizes the bell ringing outside of the grocery stores in town. Choo works to schedule all the volunteers and when a volunteer fails to show, Choo takes over.
"If someone has a need, John will do anything to fulfill it," said Juanita Williams, coordinator for the Lassen County Salvation Army. " He is always thinking about other people," she said.
All the change and one dollar bills add up to help others through the work of the Salvation Army. Last year Choo helped collect $23,000 from the red kettle collection and bell ringing.
Choo is also dedicated to Night's of Columbus Bingo night. All profits raised during BINGO are donated to scholarships, last year they donated two $1,000 and $750 to students in Lassen County.
"A lot of times we say things to people we don't mean or we harm them, many of those people might be gone and you don't have the chance to say you are sorry, but you can do something good in their name," said Choo. "I know I get paid ten times back for the things I do, and for that I am grateful," he said.
National Volunteer Week is April 15 – 21, we hope you are inspired by John Choo to give back.