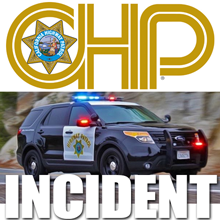 A Lake Tahoe man was arrested Wednesday after leading units of the California Highway Patrol in a high-speed pursuit that reached nearly 125 miles per hour, between Red Rock and Doyle on Highway 395.
Shortly before noon on March 22nd, CHP's Susanville Dispatch Center received a report that a black Audi hatchback, traveling at speeds greater than 100mph, was northbound on US 395 and had just entered California.
"CHP units initially attempted to intercept the Audi south of Red Rock, with speeds in excess of 120 miles per hour," details CHP Public Information Officer Bruce Thuelchassaigne.
"A responding CHP unit intercepted the Audi near Cowboy Joe Road, now traveling at approximately 124 miles per hour. A pursuit was initiated with the Audi failing to yield."
At this point in the pursuit, according to the CHP report, the driver of the Audi slowed and made a u-turn just north of County Road A-25.
CHP units to the south were positioned with spike strips at the ready, successfully deployed on 395 just south of Rachel Drive in Doyle.
"The Audi, which now had three flat tires, yielded at 395 and Doyle Grade. The driver, Daryl Rienhold of Lake Tahoe California, was taken into custody without incident and booked at the Lassen County Jail."