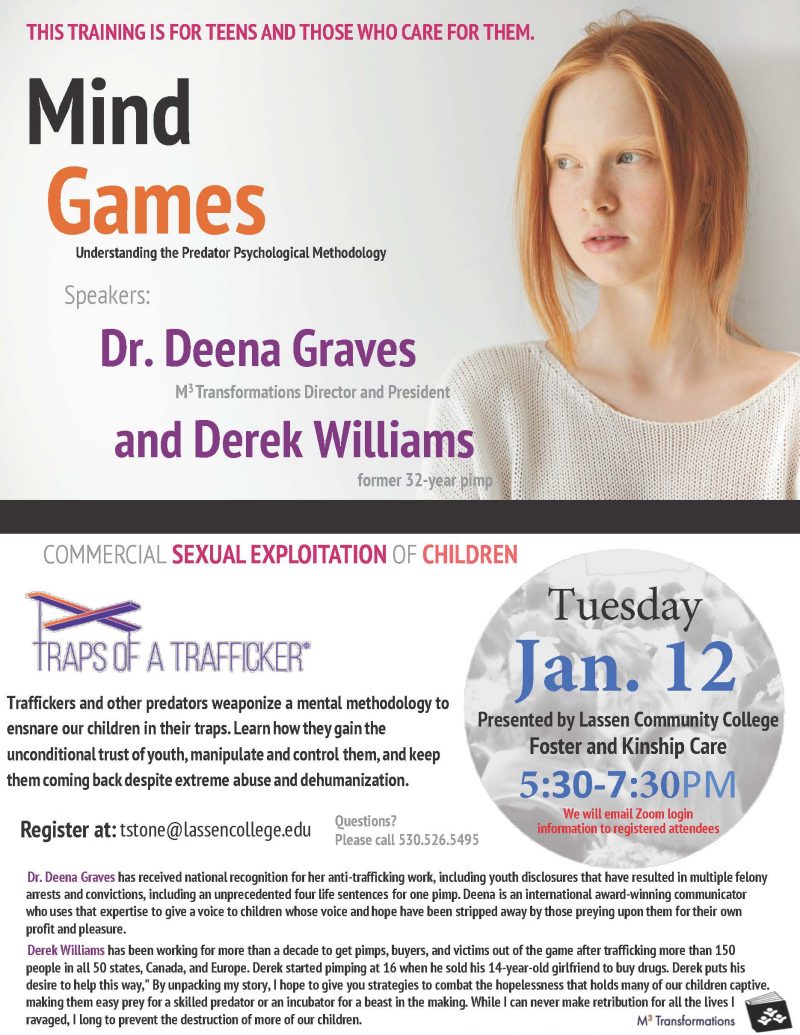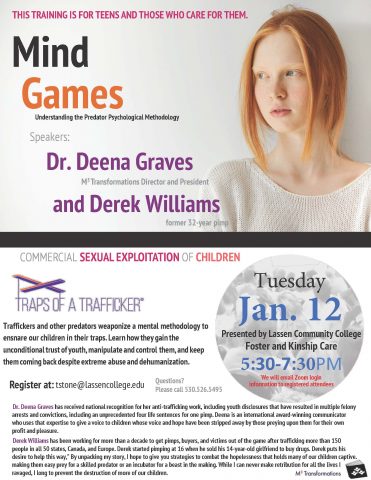 Commercial Sexual Exploitation of Children
Presented by: LCC Foster and Kinship Care  
Tuesday, January 12, 2021
5:30 – 7:30 p.m.
Via Zoom/Please RSVP
Speakers: Dr. Deena Graves and Derek Williams
Traffickers and other predators weaponize a mental methodology to ensnare our children in their traps. Learn how they gain the unconditional trust of youth, manipulate and control them, and keep them coming back despite extreme abuse and dehumanization.
Dr. Deena Graves has received national recognition for her anti-trafficking work, including youth disclosures that have resulted in multiple felony arrests and convictions, including an unprecedented four life sentences for one pimp. Deena is an international award-winning communicator who uses that expertise to give a voice to children whose voice and hope have been stripped away by those preying upon them for their own profit and pleasure.
Derek Williams has been working for more than a decade to get pimps, buyers, and victims out of the game after trafficking more than 150 people in all 50 states, Canada, and Europe. Derek started pimping at 16 when he sold his 14-year-old girlfriend to buy drugs. Derek puts his desire to help this way," By unpacking my story, I hope to give you strategies to combat the hopelessness that holds many of our children captive, making them easy prey for a skilled predator or an incubator for a beast in the making. While I can never make retribution for all the lives I ravaged, I long to prevent the destruction of more of our children.
This workshop is free to all community members.